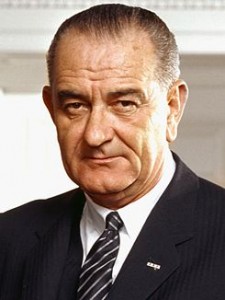 How ironic: Johnson and the Kennedys, inextricably linked in life.  And linked in death.
On this day in 1973, U.S. congressman from Texas, U.S. Senator from Texas, 11th U.S. Senate Majority leader, 37th Vice President of the United States, 36th President of the United States, LBJ, Lyndon Johnson, died from a heart attack at his ranch near Stonewall, Texas, in bed with a phone in his hand at the age of 64.  Born Lyndon Baines Johnson near Stonewall, Texas, on 27 August 1908, in a small farmhouse near the Pedernales River (pronounced perd-uh-nall-us).  His father was a farmer, cattle speculator and Texas congressman who always struggled financially and LBJ apparently desperately wanted to escape the poverty he grew up with.  He graduated from Southwest Texas Texas State Teacher's College, now known as Texas State University – San Marcos.   LBJ is one of four people who served in all four elected Federal offices of the United States.  In my opinion, LBJ was the most powerful and influential senate leader in the history of the senate.  After campaigning unsuccessfully for the Democratic nomination in 1960, LBJ was asked by John F. Kennedy to be his running mate for the 1960 presidential election.  LBJ succeeded to the presidency following the assassination of JFK, completed Kennedy's term and was elected President in his own right, winning by a large margin in the 1964 Presidential election over Republican candidate Barry Goldwater.  LBJ was responsible for designing the "Great Society" legislation that included laws that upheld civil rights, Public Broadcasting, Medicare, Medicaid, environmental protection, aid to education, and his "War on Poverty."  He was renowned for his domineering personality and the "Johnson treatment," his coercion of powerful politicians in order to advance legislation.  LBJ greatly escalated direct American involvement in the Vietnam War.  As the war dragged on, LBJ's popularity as president steadily declined.  He decided not to run in the 1968 United States presidential election amid growing opposition to his policy on the Vietnam War.  He was married to Claudia Alta "Lady Bird" Taylor.  Together, they purchased and created a media empire in Austin, Texas that came to inlcude KLBJ-FM, KLBJ-AM and the KLBJ CBS affiliate.  After leaving the presidency, LBJ went home to his ranch in Stonewall, Texas.  The Lyndon B. Johnson School of Public Affairs (or LBJ School of Public Affairs), a graduate school at The University of Texas at Austin, was founded in 1970 to offer professional training in public policy analysis and administration for students interested in pursuing careers in government and public affairs-related areas of the private and nonprofit sectors.  Degree programs include a Masters of Public Affairs (MPAff), a mid-career MPAff sequence, thirteen MPAff dual degree programs, a Masters of Global Policy Studies (MGPS), six MGPS dual degree programs and a Ph.D. in Public Policy.  In 1971, he published his memoirs, The Vantage Point.  That year, the Lyndon Baines Johnson Library and Museum opened near the campus of The University of Texas at Austin.  LBJ donated his Texas ranch in his will to the public to form the Lyndon B. Johnson National Historical Park, with the provision that the ranch "remain a working ranch and not become a sterile relic of the past".  LBJ is ranked favorably by some historians based on his domestic policies.  He understood power; how to find it, how to get it and how to use it.  I believe LBJ was driven by three things; he wanted to be wealthy, he wanted to be president and he wanted to help people.  He wanted his initials, LBJ, to be as widely recognized, if not more so than FDR and JFK.  A fascinating, complex and controversial man.  For those who want to know more about LBJ, I highly recommend Robert Caro's four volume biography; The Years of Lyndon Johnson.  The first book, The Path to Power (1982) covers LBJ's life up to his failed 1941 campaign for the United States Senate.  The second volume, Means of Ascent (1990), commences in the aftermath of that defeat and continues through his election to that office in 1948.  The third volume, Master of the Senate (2002) chronicles LBJ's rapid ascent and rule as Senate Majority Leader.  The fourth volume, The Passage of Power (2012), covers LBJ's life from 1958 to 1964.  Caro announced in November 2011 that the full project had expanded to five volumes with the fifth volume requiring another two to three years to write.  Also recommended are Taking Charge (1998) and Reaching for Glory (2002), the two volume set of LBJ's secret White House tapes transcribed, edited and explained by Michael Beschloss.  The grounds of the LBJ library include a fountain, large live oak trees, benches and tables.  I have spent much time there; walking the grounds at night and during the day, picnics with one of my daughters.  I even kissed a pretty girl there one night.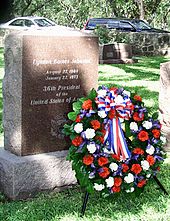 The Final Footprint –  Walter Cronkite was live on the air with the CBS Evening News when word was received that LBJ had died.  A report on Vietnam was cut short abruptly so he could break the news.  Cronkite also announced JFK's death live on air.  Johnson was honored with a state funeral in which Texas Congressman J. J. Pickle and former Secretary of State Dean Rusk eulogized him at the Capitol.  The final services took place on January 25.  The funeral was held at the National City Christian Church in Washington, D.C., where he had often worshiped as president.  The service was presided over by President Richard Nixon and attended by foreign dignitaries, led by former Japanese prime minister Eisaku Satō, who served as Japanese prime minister during Johnson's presidency.  Eulogies were given by the Rev. Dr. George Davis, the church's pastor, and W. Marvin Watson, former postmaster general.  Nixon mentioned Johnson's death in a speech he gave the day after Johnson died, announcing the peace agreement to end the Vietnam War.  Johnson was buried in his family cemetery (which, although it is part of the Lyndon B. Johnson National Historical Park in Stonewall, Texas, is still privately owned by the Johnson family, who have requested that the public not enter the cemetery), a few yards from the house in which he was born.  Eulogies were given by John Connally and the Rev. Billy Graham, the minister who officiated the burial rites.  The state funeral, the last for a president until Ronald Reagan's in 2004, was part of an unexpectedly busy week in Washington, as the Military District of Washington (MDW) dealt with their second major task in less than a week, beginning with Nixon's second inauguration.  The inauguration had an impact on the state funeral in various ways, because Johnson died only two days after the inauguration.  The MDW and the Armed Forces Inaugural Committee canceled the remainder of the ceremonies surrounding the inauguration to allow for a full state funeral, and many of the military men who participated in the inauguration took part in the funeral.  It also meant Johnson's casket traveled the entire length of the Capitol, entering through the Senate wing when taken into the rotunda to lie in state and exited through the House wing steps due to construction on the East Front steps.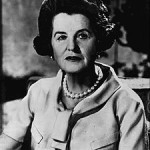 On this day in 1995, American philanthropist, the wife of Joseph P. Kennedy, and the mother of nine children, among them United States President John F. Kennedy, United States Senator Robert F. Kennedy, and United States Senator Edward Moore "Ted" Kennedy, Countess (title granted by Pope Pius XII), Rose Kennedy died from complications from pneumonia at the age of 104 in Hyannis, Massachusetts.  Born Rose Elizabeth Fitzgerald on 22 July 1890 in the North End neighborhood of Boston.  The Final Footprint – Kennedy is interred in the Kennedy family estate in Holyhood Cemetery, Middlesex County, Massachusetts.
Heath Ledger

Ledger at the 56th Berlin International Film Festival in February 2006
On this day in 2008, actor and director Heath Ledger died from cardiac arrest brought on by prescription drug intoxication in his fourth-floor loft apartment at 421 Broome Street in the SoHo neighbourhood of Manhattan. Born Heathcliff Andrew Ledger on 4 April 1979 in Perth, Australia. His work comprised nineteen films, including 10 Things I Hate About You (1999), The Patriot (2000), A Knight's Tale (2001), Monster's Ball (2001), Lords of Dogtown (2005), Brokeback Mountain (2005), The Dark Knight (2008), and The Imaginarium of Doctor Parnassus(2009), the latter two being posthumous releases. He also produced and directed music videos and aspired to be a film director.
For his portrayal of Ennis Del Mar in Brokeback Mountain, Ledger won the New York Film Critics Circle Award for Best Actor and Best International Actor from the Australian Film Institute, and was nominated for the BAFTA Award for Best Actor in a Leading Role and for the Academy Award for Best Actor. For his portrayal of The Joker in The Dark Knight, Ledger won the Academy Award for Best Supporting Actor, a Best Actor International Award at the 2008 Australian Film Institute Awards (for which he became the first actor to win an award posthumously), the 2008 Los Angeles Film Critics Association Award for Best Supporting Actor, the 2009 Golden Globe Award for Best Supporting Actor – Motion Picture, and the 2009 BAFTA Award for Best Supporting Actor.
The Final Footprint
After attending private memorial ceremonies in Los Angeles, Ledger's family members returned with his body to Perth.
On 9 February, a memorial service attended by several hundred invited guests was held at Penrhos College. Ledger was cremated at Fremantle Cemetery, followed by a private service.  His cremains are interred in a family plot at Karrakatta Cemetery, next to two of his grandparents. Later that night, his family and friends gathered for a wake on Cottesloe Beach.
"You know when you see the preachers down South? And they grab a believer and they go, 'Bwoom! I touch you with the hand of God!' And they believe so strongly, they're on the ground shaking and spitting. And fuck's sake, that's the power of belief… Now, I don't believe in Jesus, but I believe in my performance. And if you can understand that the power of belief is one of the great tools of our time and that a lot of acting comes from it, you can do anything."
—Ledger, during the interview with Rolling Stone in 2006, on belief, power and acting.
Have you planned yours yet?
Follow TFF on twitter @RIPTFF