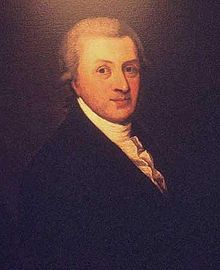 On this day in 1803, Irish brewer, entrepreneur, philanthropist and the founder of the Guinness brewery business, Arthur Guinness died in Dublin at the approximate age of 78.  Born into the Irish Protestant Guinness family in 1724 or 1725 in Celbridge, County Kildare, Ireland.  In 1752, Guinness's godfather Arthur Price, the Church of Ireland Archbishop of Cashel, bequeathed him £100 in his will.  Guinness invested the money and in 1755 had a brewery at Leixlip, just 17 km from Dublin.  In 1759, Guinness went to the city and set up his own business.  He took a 9,000 year lease on the 4-acre (16,000 m2) brewery at St. James's Gate from the descendants of Sir Mark Rainsford for an annual rent of £45.  In 1761 he married Olivia Whitmore in St. Mary's Church, Dublin, and they had 21 children, 10 of whom lived to adulthood.  Guinness's florid signature is still copied on every label of bottled Guinness.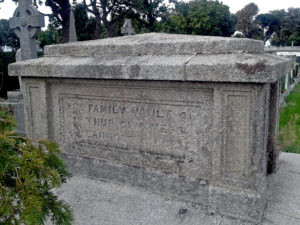 The Final Footprint – Guinness is buried in his mother's family plot at Oughterard, County Kildare.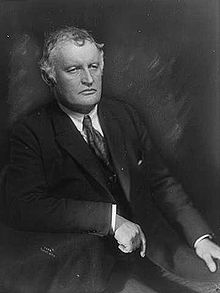 On this day in 1944, painter Edvard Munch died in his house at Ekely near Oslo, about a month after his 80th birthday.  Born in a farmhouse in the village of Ådalsbruk in Løten on 12 December 1863.  Munch's intensely evocative treatment of psychological themes built upon some of the main tenets of late 19th-century Symbolism and greatly influenced German Expressionism in the early 20th century.  Perhaps best known for The Scream (1893).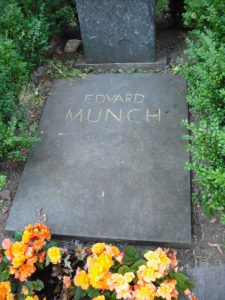 The Final Footprint – Munch is interred in Vår Frelsers Gravlund (Cemetery of Our Saviour), Oslo.  When Munch died, his remaining works were bequeathed to the city of Oslo, which built the Munch Museum at Tøyen (it opened in 1963).  The museum hosts a collection of approximately 1,100 paintings, 4,500 drawings, and 18,000 prints, the broadest collection of his works in the world. 
Gallery

The Scream. 1893. Oil, tempera, and pastel on cardboard. Nasjonalgalleriet, Oslo

The Dance of Life. 1899–1900. Oil on canvas, 49½ × 75 in. Nasjonalgalleriet, Oslo

Ashes. 1894. Oil on canvas. 120.5 × 141 cm. Nasjonalgalleriet, Oslo

Madonna. 1894. Oil on canvas. 90 × 68 cm. Munch Museum, Oslo

The Seine at Saint-Cloud. 1890. 46 × 38 cm. Munch Museum, Oslo

At the Roulette Table in Monte Carlo. 1892. 74,5 × 116 cm. Munch Museum, Oslo

August Strindberg. 1892. Oil on canvas, 120 × 90 cm. Museum of Modern Art, Stockholm, Sweden

Death in the Sickroom. 1893. 134 × 160 cm. Munch Museum, Oslo

Starry Night. 1893. 135.6 × 140 cm. J. Paul Getty Museum.

Vampire. 1895. 91 × 109 cm. Munch Museum, Oslo

Anxiety. 1894. 94 × 74 cm. Munch Museum, Oslo

Death in the Sickroom. c. 1895. Oil on canvas. 59 × 66 in. Nasjonalgalleriet, Oslo

Lady From the Sea (detail). 1896. Oil on canvas. 39½ × 126 in.

Separation. 1896. 96 × 127 cm. Munch Museum, Oslo

The Voice / Summer Night. 1896. 90 × 119 cm. Munch Museum, Oslo

The Kiss. 1897. 99 × 81 cm. Munch Museum, Oslo

Inheritance. 1897–99. 141 × 120 cm. Munch Museum, Oslo

Metabolism. 1898–99. 172 × 142 cm. Munch Museum, Oslo

Red and White. 1899–1900. 93 × 129 cm. Munch Museum, Oslo

Train Smoke. 1900. 84 × 109 cm. Munch Museum, Oslo

Consul Christen Sandberg. 1901. 215 × 147 cm. Munch Museum, Oslo

Four Girls in Åsgårdstrand. 1903. 87 × 111 cm. Munch Museum, Oslo

Shore with Red House. 1904. 69 × 109 cm. Munch Museum, Oslo

Portrait of Friedrich Nietzsche (1906)

Death of Marat I (1907)

Jealousy. 1907. 75 × 98 cm. Munch Museum, Oslo

The Sun. 1910–11. 450 × 772 cm. Munch Museum, Oslo

Galloping Horse. 1910–12. 148 × 120 cm. Munch Museum, Oslo

The Yellow Log. 1912. 129.5 × 159.5 cm. Munch Museum, Oslo

On the Sofa. 1913. 80 × 150 cm. Munch Museum, Oslo

Weeping Nude. 1913–14. 110 × 135 cm. Munch Museum, Oslo
Self-portraits
Self-Portrait. 1882. 26 × 19 cm. Munch Museum, Oslo

Self-Portrait in Hell. 1903. 82 × 66 cm. Munch Museum, Oslo

Self-Portrait with Brushes. 1904. 197 × 91 cm. Munch Museum, Oslo

Self-Portrait with a Bottle of Wine. 1906. 110 × 120 cm. Munch Museum, Oslo
Photographs
Portrait at 26 years

Portrait of Edvard Munch 1902.

Portrait of Edvard Munch

Portrait of Edvard Munch 1929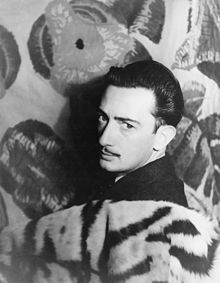 On this day in 1989 prominent Spanish Catalan surrealist painter, Salvador Dali died while his favorite record of Tristan and Isolde played, of heart failure at Figueres, Spain at the age of 84.  Born Salvador Domingo Felipe Jacinto Dalí i Domènech on 11 May 1904, in the town of Figueres, in the Empordà region, close to the French border in Catalonia.  Dalí was a skilled draftsman, perhaps best known for the striking and bizarre images in his surrealist work.  His painterly skills are often attributed to the influence of Renaissance masters.  Perhaps his best-known work, The Persistence of Memory, was completed in August 1931.  Dalí's expansive artistic repertoire included film, sculpture, and photography, in collaboration with a range of artists in a variety of media.  Dalí attributed his "love of everything that is gilded and excessive, my passion for luxury and my love of oriental clothes" to an "Arab lineage", claiming that his ancestors were descended from the Moors.  Dalí was highly imaginative, and also enjoyed indulging in unusual and grandiose behavior.  Dalí married Elena Ivanovna Diakonova "Gala".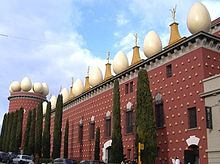 The Final Footprint – Dalí  is entombed in the crypt below the stage of his Theatre and Museum in Figueres.  The location is across the street from the church of Sant Pere, where he had his baptism, first communion, and funeral, and is only three blocks from the house where he was born.  The Gala-Salvador Dalí Foundation currently serves as his official estate.  Dalí has been cited as major inspiration from many modern artists.  His manic expression and famous moustache have made him something of a cultural icon for the bizarre and surreal.  He has been portrayed on film by Robert Pattinson in Little Ashes, and Adrien Brody in Midnight in Paris.
Gallery
The Rainbow (1972), M.T. Abraham Foundation

Rinoceronte vestido con puntillas (1956)
Puerto José Banús

Plaza de Dalí (Dalí Square), Madrid

Perseo (Perseus)
Marbella

Children at Dalí exhibition in Sakıp Sabancı Museum, Istanbul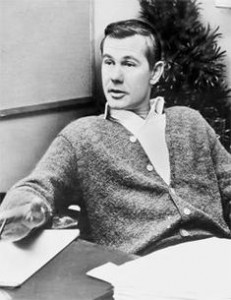 On this day in 2005, U.S. Navy veteran, television host, comedian, Emmy winner, American icon, Johnny Carson, died at Cedars-Sinai Medical Center of respiratory failure arising from emphysema, in Los Angeles, California at the age of 79.  Born John William Carson on 23 October 1925 in Corning, Iowa.  NBC invited him to replace Jack Paar as host of The Tonight Show, who would leave in March 1962.  Carson declined the offer, but NBC asked him again after Bob Newhart, Jackie Gleason, and Joey Bishop also refused.  Carson accepted in March and on 1 October 1962, The Tonight Show Starring Johnny Carson premiered.  His announcer and sidekick was Ed McMahon throughout the program. McMahon's opening line, "Heeeere's Johnny" became a hallmark.  Carson's trademark was a phantom golf swing at the end of his monologues, aimed stage left where Doc Severinsen and the Tonight Show Band were located.  Paul Anka wrote the theme song ("Johnny's Theme"), a reworking of his "Toot Sweet".  In May 1972, the show moved from New York to Burbank, California.  Carson often joked about "beautiful downtown Burbank".  Carson played several continuing characters on sketches during the show, including; Art Fern the "Tea Time Movie" announcer, Carnac the Magnificent and Floyd R. Turbo American.  Carson retired from show business on 22 May 1992, when he stepped down as host of The Tonight Show.  His farewell was a major media event, and stretched over several nights.  It was often emotional for Carson, his colleagues, and the audiences, particularly the farewell statement he delivered on his 4,531st and final Tonight Show:
| | | |
| --- | --- | --- |
| " | And so it has come to this: I, uh — am one of the lucky people in the world; I found something I always wanted to do, and I have enjoyed every single minute of it. I want to thank the gentlemen who've shared this stage with me for thirty years, Mr. Ed McMahon — Mr. Doc Severinsen — and — you people watching, I can only tell you that it has been an honor and a privilege to come into your homes all these years and entertain you — and I hope when I find something that I want to do, and I think you would like, and come back, that you'll be as gracious in inviting me into your home as you have been. I bid you a very heartfelt good night. | " |
Carson was married four times; Joan Morril Wolcott (1949 – 1963 divorce), Joanne Copeland (1963 – 1972 divorce), Joanna Holland (1972 – 1985 divorce) and Alexandra Mass (1987 – 2005 his death).  The Final Footprint – Carson was cremated and his cremains were given to his family.  In accordance with his family's wishes, no public memorial service was held.  Numerous tributes were paid to Carson upon his death including a statement by then-President George W. Bush, all recognizing the deep and enduring affection held for him.  The day after his death, The Tonight Show with Jay Leno paid tribute to Carson with guests McMahon, Newhart, Don Rickles, Drew Carey and k.d. lang.  David Letterman followed suit on January 31 with former Tonight Show executive producer Peter Lassally and Severinsen.  At the beginning of this show, Letterman said that for thirty years no matter what was going on in the world, whether people had a good or bad day, they wanted to end it being "tucked in by Johnny."  He also told his viewers that the monologue he had just spoken, which was very well received by the studio audience, consisted entirely of jokes sent to him by Carson in the last few months of his life.  Severinsen ended the Letterman show that night by playing, along with Tommy Newsom, one of Carson's two favorite songs, "Here's That Rainy Day" (the other was "I'll Be Seeing You").  The 2005 film The Aristocrats was dedicated to Carson.  At the 1st Annual Comedy Awards on Comedy Central, the Johnny Carson Award was given to Letterman.  A two-hour documentary about his life, Johnny Carson: King of Late Night, aired on PBS on 14 May 2012, as part of their American Masters series.  It is narrated by Kevin Spacey and features interviews with many of Carson's family, fellow comedians and protégés.
Have you planned yours yet?
Follow TFF on twitter @RIPTFF