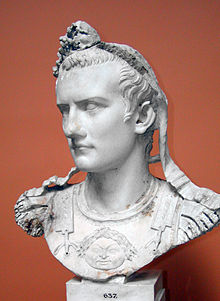 On this day in 41 AD, Roman Emperor Caligula was assassinated, the result of a conspiracy by officers of the Praetorian Guard, senators, and courtiers, in the cryptoporticus (underground corridor) beneath the imperial palaces on the Palatine Hill, at the age of 28.  Born Gaius Julius Caesar Augustus Germanicus in Antium (modern Anzio and Nettuno) on 31 August 12 AD.  Caligula was a member of the house of rulers conventionally known as the Julio-Claudian dynasty.  Caligula's father Germanicus, the nephew and adopted son of Emperor Tiberius, was a very successful general and one of Rome's most beloved public figures.  The young Gaius earned the nickname Caligula (meaning "little soldier's boot", the diminutive form of caliga, hob-nailed military boot) from his father's soldiers while accompanying him during his campaigns in Germania.  When Germanicus died at Antioch in AD 19, his wife Agrippina the Elder returned to Rome with her six children where she became entangled in a bitter feud with Tiberius.  The conflict eventually led to the destruction of her family, with Caligula as the sole male survivor.  Untouched by the deadly intrigues, Caligula accepted the invitation to join the emperor on the island of Capri in AD 31, to where Tiberius, himself, had withdrawn five years earlier.  With the death of Tiberius in AD 37, Caligula succeeded his great uncle and adoptive grandfather as Emperor.  There are few surviving sources about the reign of Emperor Caligula, although he is described as a noble and moderate ruler during the first six months of his reign.  After this, the sources focus upon his cruelty, sadism, extravagance, and sexual perversity, presenting him as an insane tyrant.  While the reliability of these sources is questionable, it is known that during his brief reign, Caligula worked to increase the unconstrained personal power of the emperor, as opposed to countervailing powers within the principate.  He directed much of his attention to ambitious construction projects and luxurious dwellings for himself; he initiated the construction of two aqueducts in Rome: the Aqua Claudia and the Anio Novus.  During his reign, the Empire annexed the Kingdom of Mauretania as a province.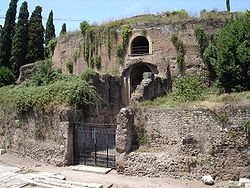 The Final Footprint – Caligula's Germanic guard, stricken with grief and rage, responded with a rampaging attack on the assassins, conspirators, innocent senators and bystanders alike.  The Senate attempted to use Caligula's death as an opportunity to restore the Republic.  The military remained loyal to the office of the emperor.  The grieving Roman people assembled and demanded that Caligula's murderers be brought to justice.  Uncomfortable with lingering imperial support, the assassins sought out and stabbed Caligula's wife, Caesonia, and killed their young daughter, Julia Drusilla, by smashing her head against a wall.  They were unable to reach Caligula's uncle, Claudius, who was spirited out of the city, after being found by a soldier hiding behind a palace curtain, to the nearby Praetorian camp.  Claudius became emperor after procuring the support of the Praetorian guard and ordered the execution of known conspirators involved in the death of Caligula.  Caligula's body was placed under turf until it was burned and entombed by his sisters.  He was entombed within the Mausoleum of Augustus; in 410 during the Sack of Rome the tomb's ashes were scattered.  The biographical film Caligula was released in 1979.  It stars Malcolm McDowell, Teresa Ann Savoy, Helen Mirren, Peter O'Toole and John Gielgud.  It is the only feature film produced by the men's magazine Penthouse.  Producer Bob Guccione, the magazine's founder, intended to produce an explicit adult film within a feature film narrative, which had high production values.  He intended to cast Penthouse Pets as extras in unsimulated sexual scenes filmed during post-production by Guccione and Giancarlo Lui.  Guccione hired Gore Vidal to draft the film's script and Tinto Brass to direct the film.  Brass extensively altered Vidal's original screenplay, leading Vidal to disavow the film.  The final screenplay focuses on the idea that "absolute power corrupts absolutely".  Brass and Guccione disagreed over Guccione's use of unsimulated sexual content, which Brass refused to film.  Because the producers did not allow Brass to edit the film, changed its tone and style significantly without consulting the director and added hardcore sex scenes not filmed by Brass, he also disavowed the film.  The film's release was controversial; it was met with legal issues and controversies over its violent and sexual content.  Although reviews were overwhelmingly negative, Caligula is considered to be a cult classic and its political content was considered to have significant merit.  In 1984, a new version of the film titled I, Caligula was distributed, adding new scenes and removing the more violent and sexually explicit ones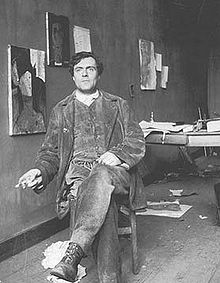 On this day in 1920, painter and sculptor Amedeo Modigliani died of tubercular meningitis at the Hôpital de la Charité in Paris at the age of 35.  Born Amadeo Clemente Modigliani on 12 July 1884 in Livorno, Italy.  Modigliani worked mainly in France and is known for portraits and nudes in a modern style characterized by elongation of faces and figures, that were not received well during his lifetime, but later found acceptance.  Modigliani spent his youth in Italy, where he studied the art of antiquity and the Renaissance, until he moved to Paris in 1906.  Modigliani's oeuvre includes mainly paintings and drawings.  From 1909 to 1914 he devoted himself mainly to sculpture.  His main subject was portraits and full figures of humans, both in the images and in the sculptures.  In the spring of 1917, the Russian sculptor Chana Orloff introduced him to a beautiful 19-year-old art student named Jeanne Hébuterne who had posed for Tsuguharu Foujita.  Modigliani ended his relationship with the English poet and art critic Beatrice Hastings and a short time later Hebuterne and Modigliani moved together into a studio on the Rue de la Grande Chaumière.  Jeanne began to pose for him and appears in several of his paintings. She became a principal subject for Modigliani's art.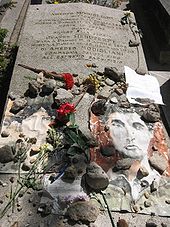 The Final Footprint – There was an enormous funeral, attended by many from the artistic communities in Montmartre and Montparnasse.  When Modigliani died, twenty-one-year-old Hébuterne was eight months pregnant with their second child.  A day later, Hébuterne was taken to her parents' home.  There, inconsolable, she threw herself out of a fifth-floor window, a day after Modigliani's death, killing herself and her unborn child.  Modigliani was interred in Père Lachaise Cemetery.  Hébuterne was buried at the Cimetière de Bagneux near Paris, and it was not until 1930 that her embittered family allowed her body to be moved to rest beside Modigliani.  A single tombstone honors them both.  His epitaph reads: "Struck down by Death at the moment of glory".  Hers reads: "Devoted companion to the extreme sacrifice".  Two films have been made about Modigliani: Les Amants de Montparnasse (1958), directed by Jacques Becker and starring Gérard Philipe as Modigliani; and Modigliani (2004), directed by Mick Davis and starring Andy García as Modigliani.  Other notable Final Footprints at Père Lachaise include; Honoré de Balzac, Georges Bizet, Jean-Dominique Bauby, Maria Callas, Chopin, Colette, Auguste Comte, Jean-Baptiste-Camille Corot, Molière, Jim Morrison, Édith Piaf, Camille Pissarro, Marcel Proust, Sully Prudhomme, Gioachino Rossini, Georges-Pierre Seurat, Simone Signoret, Gertrude Stein, Alice B. Toklas, Oscar Wilde and Richard Wright.
For more on Modigliani, visit  Artsy's Amedeo Modigliani page.
Gallery of works
Portrait of Maude Abrantes, 1907

Paul Guillaume, Novo Pilota, 1915

Jacques and Berthe Lipchitz, 1916

Portrait of Beatrice Hastings, 1916

Female nude; Iris Tree, c. 1916

Portrait of Moise Kisling, 1915

Nude Sitting on a Divan ("La Belle Romaine"), 1917

Dedie Hayden, 1918, Centre Georges Pompidou

Self-portrait, 1919, oil on canvas, Museum of Contemporary Art, São Paulo, Brazil

Gypsy Woman with Baby, 1919, National Gallery of Art

The little peasant, 1918, Tate Modern, London

Portrait of a Young Woman, 1918, New Orleans Museum of Art

Buste de femme, unknown, before 1919, Museo Nacional de Bellas Artes (Buenos Aires)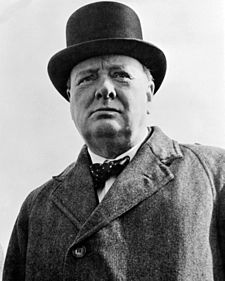 On this day in 1965, British Army veteran, politician, statesman, author, historian, The Right Honourable Sir Winston Churchill, Knight of the Garter, Order of Merit, Companion of Honour, Territorial Decoration, Her Majesty's Most Honourable Privy Council, Deputy Lieutenant, Fellow of the Royal Society, died at his home in Hyde Park, London, England at the age of 90.  Born Winston Leonard Spencer-Churchill on 30 November 1874 in Blenheim Palace, Woodstock, Oxfordshire, England into the Spencer family a British noble family descended in the male line from Henry Spencer (died c. 1478), male-line ancestor of the Earls of Sunderland, the later Dukes of Marlborough, and the Earls Spencer.  Churchill was a grandson of the 7th Duke of Marlborough.  Diana, Princess of Wales was a member of the Spencer family as a daughter of the 8th Earl Spencer.  As of this date, he is the only British prime minister to have received the Nobel Prize in Literature and he was the first person to be made an honorary citizen of the United States.  Beginning in 1932, Churchill took the lead in warning about the danger of German rearmament.  On the outbreak of WWII, he was again appointed First Lord of the Admiralty.  Following the resignation of Neville Chamberlain on 10 May 1940, Churchill became Prime Minister of the United Kingdom.  His steadfast refusal to consider defeat, surrender or a compromise peace, helped inspire British resistance, especially during the difficult early days of the War when Britain stood alone in its active opposition to Hitler.  Churchill was particularly noted for his speeches and radio broadcasts, which helped inspire the British people and the embattled Allied forces.  His first speech as prime minister was the famous "I have nothing to offer but blood, toil, tears, and sweat".  Two other equally famous quotes were given just before the Battle of Britain. One included the words:
… we shall fight in France, we shall fight on the seas and oceans, we shall fight with growing confidence and growing strength in the air, we shall defend our island, whatever the cost may be, we shall fight on the beaches, we shall fight on the landing grounds, we shall fight in the fields and in the streets, we shall fight in the hills; we shall never surrender.
The other:
Let us therefore brace ourselves to our duties, and so bear ourselves, that if the British Empire and its Commonwealth last for a thousand years, men will still say, 'This was their finest hour'.
At the height of the Battle of Britain, his bracing survey of the situation included the memorable line "Never in the field of human conflict was so much owed by so many to so few", which engendered the enduring nickname The Few for the RAF fighter pilots who won it.  One of his most memorable war speeches came on 10 November 1942 at the Lord Mayor's Luncheon at Mansion House in London, in response to the Allied victory at the Second Battle of El Alamein. Churchill stated:
This is not the end. It is not even the beginning of the end. But it is, perhaps, the end of the beginning.
He led Britain as Prime Minister until victory had been secured over Nazi Germany.  In my opinion, one of the great wartime leaders.  Churchill was married to Clementine Ogilvy Spencer-Churchill, Baroness Spencer-Churchill.  I have spoken to some British citizens who said if not for Churchill they would be speaking German.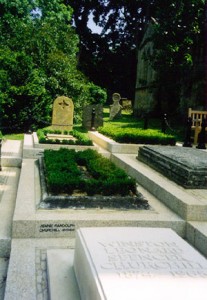 The Final Footprint – Churchill is entombed in a double depth marble crypt with his wife in the Spencer-Churchill family estate in St. Martin Churchyard, Bladon, Oxfordshire, England.  The crypt is inscribed with their names and birth and death dates.  By decree of the Queen, his body lay in state for three days and a state funeral service was held at St Paul's Cathedral.  As his lead-lined coffin passed down the River Thames from Tower Pier to Festival Pier on the Havengore, dockers lowered their crane jibs in a salute.  The Royal Artillery fired a 19-gun salute (as head of government), and the RAF staged a fly-by of sixteen English Electric Lightning fighters.  The coffin was then taken to Waterloo Station where it was loaded onto a specially prepared and painted carriage as part of the funeral train for its rail journey to Bladon.  The funeral train of Pullman coaches carrying his family was hauled by Bulleid Pacific steam locomotive No. 34051 "Winston Churchill".  Along the route, thousands stood in silence to pay their last respects.  Later in 1965 a memorial to Churchill, cut by the engraver Reynolds Stone, was placed in Westminster Abbey.  A bronze statue of Churchill and Franklin D. Roosevelt was installed on New Bond Street in London and a bronze statue of Churchill was installed in Parliament Square in London.  Churchill died on the same day, 70 years after his father Lord Randolph Churchill died.  The popular cigar size, Churchill is named after Churchill.  I have enjoyed many a good Churchill and look forward to many more.
Have you planned yours yet?
Follow TFF on twitter @RIPTFF