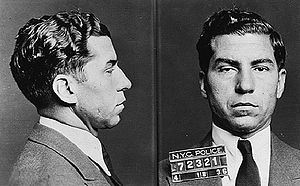 On this day in 1962, Sicilian mobster, Charlie "Lucky" Luciano, died from a heart attack in the Naples International Airport in Naples, Italy at the age of 64.  Born Salvatore Lucania on 24 November 1897 in Lercara Friddi, Palermo, Sicily.  Luciano is considered the father of modern organized crime in America.  He was instrumental in creating the five Mafia crime families in New York City and in establishing the first commission.  Luciano was the first official boss of the modern Genovese crime family.  He and his associate Meyer Lansky, were instrumental in the development of the "National Crime Syndicate" in the United States.  On 17 January 1919, the Eighteenth Amendment to the U.S. Constitution was ratified.  The Amendment prohibited the manufacture, sale and transportation of alcoholic beverages.  Prohibition remained in force until its repeal in 1933 and reduced the consumption of alcohol but had the unintended effect of stimulating the proliferation of rampant underground, organized and widespread criminal activity.  Organized crime gained a new source of revenue through illegal alcohol sales.  In the 1920's, New York's two leading mobsters were Joe "The Boss" Masseria and Salvatore Maranzano.  They were engaged in what would be known as the infamous Castellammarese War.  Luciano worked his way up to be Masseria's top aide, but Luciano made a deal with Maranzano whereby Luciano would set up the death of Masseria in return for Maranzano's support of Luciano becoming the head of the Masseria family and thus ending the destructive war.  Masseria was assassinated in a Coney Island restaurant by Bugsy Siegel, Vito Genovese, and Joe Adonis.  Maranzano then declared Luciano his number two man, and set up the Five Families of New York (Genovese, Gambino, Lucchese, Colombo, and Bonanno) under him, promising that they would all be equal and all be free to make money.  However, Maranzano declare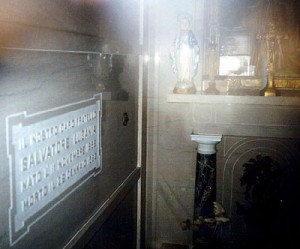 d himself capo di tutti capi (Boss of all Bosses), which meant every Don in the country had to pay up to him.  Luciano began planning to eliminate Maranzano.  Luciano became the most powerful mobster in the country when Maranzano was killed in his office.  Luciano set up The Commission comprised of the heads of the Five Familes plus;  the Philadelphia crime family, the Buffalo crime family, Los Angeles crime family and the Chicago Outfit of Al Capone; later, the Detroit crime family, and Kansas City crime family.  Genovese became Luciano's Underboss, while Frank Costello was his consigliere.  Michael "Trigger Mike" Coppola, Anthony Strollo, Adonis, and Anthony Carfano all served as caporegimes.  Lansky and Siegel were both unofficial advisors.  I suppose he was lucky in that he died from a heart attack as opposed to being murdered. 

The Final Footprint – Luciano is entombed in the Lucania Family Private Mausoleum in Saint John Cemetery, Middle Village, New York.  The inscription on his crypt plate reads: IL NOSTRO CARO FRATELLO (our dear brother)  SALVATORE LUCANIA and shows his birth and death dates.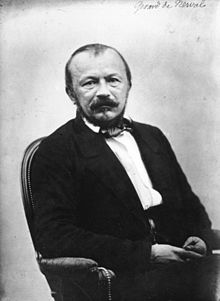 On this day in 1855, French writer, poet, essayist and translator Gérard de Nerval committed suicide by hanging himself from a sewer grating in the Rue de la vieille-lanterne, a narrow lane in the fourth arrondissement of Paris, at the age of 46.  Born Gérard Labrunie in Paris on 22 May 1808.  He was a major figure of French romanticism who worked in many genres.  He is best known for his poems and novellas, especially the collection Les Filles du feu (The Daughters of Fire), which includes the novella Sylvie and the poem El Desdichado.  The Final Footprint – Nerval left a brief note to his aunt: "N'attendez pas pour moi ce soir, pour la nuit sera noire et blanc". (Do not wait up for me this evening, for the night will be
black and white.)  Baudelaire said; he "délier son âme dans la rue la plus noire qu'il pût trouver" (delivered his soul in the darkest street that he could find).  After a religious ceremony at the Notre-Dame cathedral (which was granted despite his suicide because of his troubled mental state), he was buried in the Père Lachaise Cemetery in Paris, at the expense of his friends Théophile Gautier and Arsène Houssaye, who published Nerval's  Aurélia as a book later that year.  Other notable final footprints at Père Lachaise include: Honoré de Balzac, Georges Bizet, Jean-Dominique Bauby, Maria Callas, Chopin, Colette, Auguste Comte, Jean-Baptiste-Camille Corot, Molière, Jim Morrison, Édith Piaf, Camille Pissarro, Marcel Proust, Sully Prudhomme, Gioachino Rossini, Georges-Pierre Seurat, Simone Signoret, Gertrude Stein, Alice B. Toklas, Oscar Wilde and Richard Wright.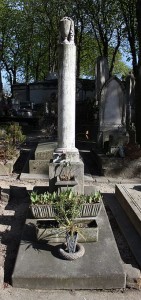 Abe Vigoda

Vigoda as Phil Fish in Barney Miller in 1977
On this day in 2016 actor Abe Vigoda died (aged 94) from natural causes at his daughter's home in Woodland Park, New Jersey. Born Abraham Charles Vigoda on February 24, 1921 in Brooklyn. Perhaps best known for his portrayals of Salvatore Tessio in The Godfather (1972) and Phil Fish in Barney Miller (1975–1977, 1982).
My favorite role he played is that of Tessio in The Godfather (1972). He also appeared briefly in The Godfather Part II in a flashback sequence at the end of the film.
According to Francis Ford Coppola's commentary on the DVD's widescreen edition, Vigoda landed the role of Tessio in an "open call", in which actors who did not have agents could come in for an audition.
Vigoda first wife was Sonja Gohlke. The marriage ended in divorce. His second marriage to Beatrice Schy lasted from 1968 until her death in 1992.
The Final Footprint
On January 31, 2016, Vigoda's funeral was held. He is interred in Beth David Cemetery, a Jewish cemetery located at 300 Elmont Road in Elmont, New York.
Have you planned yours yet?
Follow TFF on twitter @RIPTFF