On this day in 1901, Italian Romantic composer, Giuseppe Verdi, died in the Grand Hotel et de Milan in Milan, Italy at the age of 87.  Born Giuseppe Fortunino Francesco Verdi on 10 October 1813 in Le Roncole, a village near Busseto, then in the Département Taro which was a part of the First French Empire after the annexation of the Duchy of Parma and Piacenza.  Primarily known for his operas; Nabucco, Rigoletto, Il trovatore, La traviata, Aida, Otello, and Falstaff.  In my opinion, Verdi is one of the most influential composers of the 19th century.  His works are frequently performed in opera houses throughout the world.  Some of his themes have long since taken root in popular culture – such as "La donna è mobile" from Rigoletto, "Va, pensiero" (The Chorus of the Hebrew Slaves) from Nabucco, "Libiamo ne' lieti calici" (The Drinking Song) from La traviata and the "Grand March" from Aida.  Verdi's masterworks dominate the standard repertoire a century and a half after their composition. Verdi was married to Giuseppina Strepponi (1859 – 1897 her death).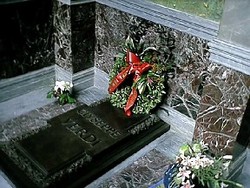 The Final Footprint – Verdi and his wife were initially entombed in Cimitero Monumentale in Milan.  Their bodies were disentombed and entombed in The Casa di Riposo per Musicisti, a rest home for retired opera singers and musicians which was founded by Verdi.  It is located at 29 Piazza Buonarotti in Milan.  The building was designed in the neo-Gothic style by Italian architect, Camillo Boito.  A plaque outside the building reads: GVARDANO GL'ITALIANI GVARDA REVERENTE IL MONDO TVTTO A QVESTE SPOGLIE ONORANDE DI GIVSEPPE VERDI QVI RICOMPOSTE IN GLORIA PERPETVA NELLA DOLCE DIMORA OSPITALE DAL SOMMO MAESTRO VOLVTA.  A bronze statue of Verdi was erected in Piazza G. Verdi in Busseto.  A bronze bust was placed outside of the Teatro Massimo in Palermo.
John Updike

Updike in 1989
On this day in 2009, novelist, poet, short story writer, art critic, and literary critic, John Updike died of lung cancer at a hospice in Danvers, Massachusetts, at the age of 76. Born John Hoyer Updike on March 18, 1932 in Reading, Pennsylvania. One of only three writers to win the Pulitzer Prize for Fiction more than once (the others were Booth Tarkington and William Faulkner), Updike published more than twenty novels, more than a dozen short-story collections, as well as poetry, art and literary criticism and children's books during his career.
Hundreds of his stories, reviews, and poems appeared in The New Yorker starting in 1954. He also wrote regularly for The New York Review of Books. Perhaps best known for his "Rabbit" series (the novels Rabbit, Run; Rabbit Redux; Rabbit Is Rich; Rabbit at Rest; and the novella Rabbit Remembered), which chronicles the life of the middle-class everyman Harry "Rabbit" Angstrom over the course of several decades, from young adulthood to death. Both Rabbit Is Rich (1982) and Rabbit at Rest (1990) were recognized with the Pulitzer Prize.
Describing his subject as "the American small town, Protestant middle class", Updike was recognized for his careful craftsmanship, his unique prose style, and his prolific output, writing on average a book a year. 
His fiction is distinguished by its attention to the concerns, passions, and suffering of average Americans, its emphasis on Christian theology, and its preoccupation with sexuality and sensual detail. In my opinion, he is one of the great American writers. Updike's distinctive prose style features a rich, unusual, sometimes arcane vocabulary. He described his style as an attempt "to give the mundane its beautiful due".
Updike married Mary E. Pennington, an art student at Radcliffe College, in 1953, while he was still a student at Harvard. She accompanied him to Oxford, England, where he attended art school. They divorced in 1974. In 1977 Updike married Martha Ruggles Bernhard, with whom he lived for more than thirty years in Beverly Farms, Massachusetts. He died of lung cancer at a hospice in Danvers, Massachusetts, on January 27, 2009, at the age of 76.
The Final Footprint
A cenotaph was placed for Updike at 

Robeson Lutheran Church Cemetery in 

Plowville

, 

Berks County

, 

Pennsylvania

, 

USA
Updike demonstrated his own fear of death in some of his more personal writings, including the poem "Perfection Wasted" (1990):
And another regrettable thing about death
is the ceasing of your own brand of magic… 
J. D. Salinger

Salinger in 1950
(photo by Lotte Jacobi)
On this day in 2010, writer J. D. Salinger died in Cornish, New Hampshire at the age of 91. Born Jerome David Salinger in Manhattan on January 1, 1919. Perhaps best known for his widely-read novel The Catcher in the Rye. Following his early success publishing short stories and The Catcher in the Rye, Salinger led a very private life for more than a half-century. He published his final original work in 1965 and gave his last interview in 1980.
Salinger was raised in Manhattan and began writing short stories while in secondary school. Several were published in Story magazine in the early 1940s before he began serving in World War II. In 1948, his critically acclaimed story "A Perfect Day for Bananafish" appeared in The New Yorker magazine, which became home to much of his later work. The Catcher in the Rye was published in 1951. The success of The Catcher in the Rye led to public attention and scrutiny. Salinger became reclusive, publishing new work less frequently. He followed Catcher with a short story collection, Nine Stories (1953); a volume containing a novella and a short story, Franny and Zooey (1961); and a volume containing two novellas, Raise High the Roof Beam, Carpenters and Seymour: An Introduction (1963). His last published work, a novella entitled "Hapworth 16, 1924", appeared in The New Yorker on June 19, 1965. 
In February 1955, at the age of 36, Salinger married Claire Douglas a student at Radcliffe. 
In 1972, at the age of 53, Salinger had a relationship with 18-year-old Joyce Maynard. Maynard, at this time, was already an experienced writer for Seventeen magazine. The New York Times had asked Maynard to write an article for them which, when published as "An Eighteen-Year-Old Looks Back On Life" on April 23, 1972, made her a celebrity. Salinger wrote a letter to her warning about living with fame. After exchanging 25 letters, Maynard moved in with Salinger the summer after her freshman year at Yale University. 
Salinger was romantically involved with television actress Elaine Joyce for several years in the 1980s. The relationship ended when he met Colleen O'Neill (b. June 11, 1959), a nurse and quiltmaker, whom he married around 1988.
The Final Footprint
Unknown at this time. No doubt, the way he would want it.
Have you planned yours yet?
Follow TFF on twitter @RIPTFF