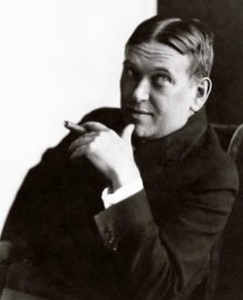 On this day in 1956, journalist, essayist, magazine editor, satirist, acerbic critic of American life and culture, and a student of American English, the "Sage of Baltimore", H. L. Mencken, died in Baltimore, Maryland at the age of 75.  Born Henry Louis Mencken on 12 September 1880 in Baltimore.  In my opinion, he is one of the most influential American writers and prose stylists of the first half of the 20th century.  Mencken notably attacked ignorance, intolerance, frauds, fundamentalist Christianity, marriage, osteopathy and chiropractic.  He once called marriage "the end of hope" although he ultimatley married Sara Powell Haardt (1930 – 1935 her death).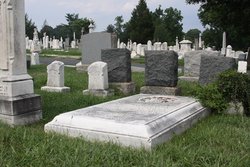 The Final Footprint – Mencken is interred with his wife in the Mencken Family Estate in Loudon Park Cemetery in Baltimore.  He wrote a joking epitaph for himself: If, after I depart this vale, you ever remember me and have thought to please my ghost, forgive some sinner and wink your eye at some homely girl.  This epitaph was not used.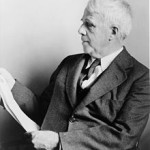 On this day in 1963 poet Robert Frost died in Boston from prostrate cancer surgery complications at the age of 88.  Born Robert Lee Frost on 26 March 1874 in San Francisco.  His work was initially published in England before it was published in America.  He is highly regarded for his realistic depictions of rural life and his command of American colloquial speech.  His work frequently employed settings from rural life in New England in the early twentieth century, using them to examine complex social and philosophical themes.  In my opinion, he is one of the most popular and critically respected American poets of the twentieth century.  Frost was honored frequently during his lifetime, receiving four Pulitzer Prizes for Poetry and the Congressional Gold Medal in 1960 for his poetical works.  My favorite Frost poems include; "The Witch of Coös," "Home Burial," "A Servant to Servants," "Directive," "Neither Out Too Far Nor In Too Deep," "Provide, Provide," "Acquainted with the Night," "After Apple Picking," "Mending Wall," "The Most of It," "An Old Man's Winter Night," "To Earthward," "Stopping by the Woods on a Snowy Evening," "Spring Pools," "The Lovely Shall Be Choosers," "Design," and "Desert Places."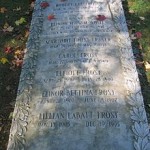 The Final Footprint – He was buried at the Old Bennington Cemetery in Bennington, Vermont. His epitaph quotes the last line from his poem, "The Lesson for Today (1942): "I had a lover's quarrel with the world."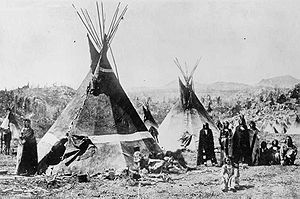 On this day in 1863, a detachment of California Volunteers engage the Shoshone at Bear River, Washington Territory, killing hundreds of men women and children.  The site is located near the present-day city of Preston in Franklin County, Idaho.  The death toll was large, but some Shoshone survived.  Chief Sagwitch gathered survivors to keep his community alive.  Sagwitch was shot twice in the hand and tried to escape on horseback, only to have the horse shot out from under him.  He went to the ravine and escaped into the Bear River near a hot spring, where he floated under some brush until nightfall.
Sagwitch's son, Beshup Timbimboo, was shot seven times but survived and was rescued by family members.  Other members of the band hid in the willow brush of the Bear River, or tried to act as if they were dead.  After the officers concluded the battle was over, they returned with the soldiers to their temporary encampment near Franklin.  Sagwitch and other survivors retrieved the wounded and built a fire to warm the survivors.
Franklin residents opened their homes to wounded soldiers that night.  They brought blankets and hay to the church meetinghouse to protect the other soldiers from the cold.
The California Volunteers suffered 14 soldiers killed and 49 wounded, 7 mortally.
In 1918, Sagwitch's son Be-shup, Frank Timbimboo Warner, said, "[H]alf of those present got away," and 156 were killed.  He went on to say that two of his brothers and a sister-in-law "lived", as well as many who later lived at the Washakie, Utah, settlement, the Fort Hall reservation, in the Wind River country, and elsewhere.
This conflict marked the final significant influence of the Shoshone nation upon Cache Valley and its immediate surroundings.  In addition to opening the northern part of Cache Valley to Mormon settlement, Cache Valley also offered a staging area for additional settlements in southeastern Idaho.
Chief Sagwitch and many members of his band allied with the Mormons.  Many were baptized and joined LDS Church
Have you planned yours yet?
Follow TFF on twitter @RIPTFF