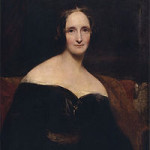 On this day in 1851, novelist, short story writer, dramatist, essayist, biographer, and travel writer, wife of poet Percy Bysshe Shelley, Mary Shelley died in Chester Square, London, at the age of fifty-three from what her physician suspected was a brain tumour.  Born Mary Wollstonecraft Godwin in Somers Town, London, on 30 August 1797.  Perhaps best known for her Gothic novel Frankenstein: or, The Modern Prometheus (1818), she also edited and promoted the works of her husband.  Her father was the political philosopher William Godwin, and her mother was the philosopher and feminist Mary Wollstonecraft.  In 1816, Mary and Percy  famously spent a summer with Lord Byron, John William Polidori, and Claire Clairmont near Geneva, Switzerland, where Mary conceived the idea for her novel Frankenstein.  The Shelleys left Britain in 1818 for Italy, where their second and third children died before Mary gave birth to her last and only surviving child, Percy Florence.  In 1822, her husband drowned when his sailing boat sank during a storm near Viareggio.  A year later, Mary Shelley returned to England and from then on devoted herself to the upbringing of her son and a career as a professional author.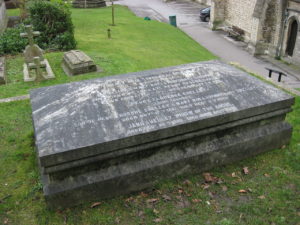 The Final Footprint – According to her daughter-in-law, Jane Shelley, Mary had asked to be buried with her mother and father; but Percy (her son) and Jane, judging the graveyard at St Pancras to be "dreadful", chose to bury her instead at St Peter's Church, Bournemouth, near their new home at Boscombe.  In order to fulfil Mary Shelley's wishes, Percy and Jane had the coffins of Mary Shelley's parents exhumed and buried with her.  On the first anniversary of Mary Shelley's death, the Shelleys opened her box-desk.  Inside they found locks of her dead children's hair, a notebook she had shared with her husband, and a copy of his poem Adonaïs with one page folded round a silk parcel containing some of his ashes and the remains of his heart.
On this day in 2003, Space Shuttle Columbia was destroyed during re-entry over Texas killing all seven crew members.  The crew: Commander Rick D. Husband, Pilot William C. McCool, David M. Brown, Kalpana Chawla, Michael P. Anderson, Laurel B. Clark, and Ilan Ramon.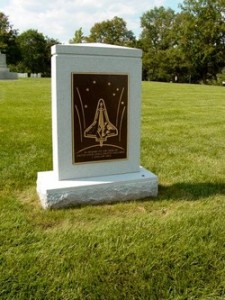 The Final Footprint – A large granite memorial with a bronze plaque was erected at Arlington National Cemetery in memory of the crew.  The memorial is placed near a similar memorial for the crew of the Space Shuttle Challenger.  Other notable Final Footprints at Arlington include; Medgar Evers, JFK, Jacqueline Bouvier Kennedy Onassis, RFK, Edward Kennedy, Lee Marvin, Audie Murphy and Malcolm Kilduff, Jr.