The Day the Music Died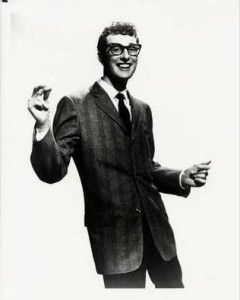 On this day, in 1959, singer and songwriter, rock and roll pioneer, Buddy Holly died in a plane crash near Clear Lake, Iowa, at the age of 22.  Ritchie Valens, J. P. "The Big Bopper" Richardson and the pilot, Roger Peterson, were also killed in the crash.  Holly's bandmate Waylon Jennings reportedly gave up his seat on the plane, causing Holly to jokingly tell Jennings, "I hope your ol' bus freezes up!"  Jennings shot back facetiously, "Well, I hope your ol' plane crashes!"  It was a statement that would haunt Jennings for decades.  Born Charles Hardin Holley on 7 September 1936 in Lubbock, Texas.  Music critic Bruce Elder described Holly as "the single most influential creative force in early rock and roll."  Holly apparently inspired contemporary and later musicians, notably The Beatles, The Rolling Stones, Bob Dylan, and Eric Clapton.  In my opinion he exerted a profound influence on popular music.  Paul McCartney owns the publishing rights to Holly's song catalogue.  In his 1998 Grammy acceptance speech for his Time out of Mind being named Album of the Year, Dylan said;  "And I just want to say that when I was sixteen or seventeen years old, I went to see Buddy Holly play at Duluth National Guard Armory and I was three feet away from him…and he looked at me.  And I just have some sort of feeling that he was — I don't know how or why — but I know he was with us all the time we were making this record in some kind of way."  Keith Richards reportedly said that Holly had "an influence on everybody."  In a 24 August 1978 Rolling Stone interview, Bruce Springsteen told Dave Marsh, "I play Buddy Holly every night before I go on; that keeps me honest."  Don McLean's popular 1971 ballad "American Pie" is inspired by Holly and the day of the plane crash.  The American Pie album is dedicated to Holly.  Holly was married to Maria Elena Santiago.  My favorite Holly songs are "That'll be the Day" and "Not Fade Away".  Holly co-wrote "That'll be the Day" with Jerry Allison apparently after watching the movie The Searchers, starring John Wayne.  In the movie Wayne's character, Ethan Edwards says that line four times; once in response to Jeffrey Hunter's character Martin Pawley telling Ethan, "I hope you die!"  Ethan responds. "That'll be the day."  Holly's music has certainly not faded away.  Indeed, 3 February 1959; the day the music died.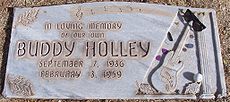 The Final Footprint –  Holly is interred in the City of Lubbock Cemetery in Lubbock.  His grave is marked be a flat granite marker, with the inscription; IN LOVING MEMORY OF OUR OWN BUDDY HOLLEY.  A memorial has been created near the crash site, (which i have visited) where fans still leave mementos in honor of those who died in the crash.  There is a bronze statue of Holly on Lubbock's Walk of Fame and a Holly mural on 19th street.  In June 1988, a four-foot tall granite memorial bearing the names of the three entertainers and Peterson was dedicated outside The Surf Ballroom in Clear Lake, the site of their final performance.  In 1988, Ken Paquette, a Wisconsin fan of the 1950s era, erected a stainless-steel monument depicting a steel guitar and a set of three records bearing the names of each of the three performers.  It is located on private farmland, about one quarter mile west of the intersection of 315th Street and Gull Avenue, approximately eight miles north of Clear Lake.  I have visited the crash sight.  Stood there in the blowin' cold, thinkin' about what happened.  Paquette also created a similar stainless steel monument to the three musicians near the Riverside Ballroom in Green Bay, Wisconsin.  That memorial was unveiled on 17 July 2003.  Holly's life story inspired a Hollywood biographical film, The Buddy Holly Story (1978).  Gary Busey received a nomination for the Academy Award for Best Actor for his portrayal of Holly.  Paul McCartney produced and hosted a documentary about Holly in 1985, titled The Real Buddy Holly Story.  In 1987, Marshall Crenshaw portrayed Buddy Holly in the movie La Bamba.  Other notable final footprints in Lubbock cemetery include Bobby Layne.
The Big Bopper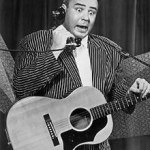 Born Jiles Perry Richardson, Jr. on 24 October 1930 in Sabine Pass, Texas.  Perhaps best known for his recording of "Chantilly Lace", a song he co-wrote with Jerry Foster and Bill Rice.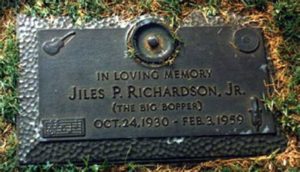 The Final Footprint – In January 2007, Richardson's son Jay requested that his father's body be exhumed and an autopsy be performed to settle the rumors that a gun was fired or that Richardson initially survived the crash.  The findings indicated there were no signs of foul play and that Richardson died immediately.  After the autopsy, Richardson's body was re-interred next to his wife in Forest Lawn Cemetery in Beaumont, Texas.  Jay then allowed the old casket to be put on display at the Texas Musicians Museum.
Ritchie Valens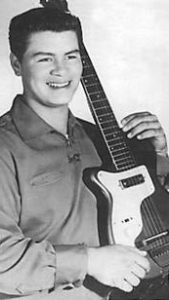 Born Richard Steven Valenzuela on 13 May 1941 in Pacoima, a neighborhood in the San Fernando Valley region of Los Angeles.  Valens is considered rock and roll pioneer and a forefather of the Chicano rock movement.  His recording career lasted only eight months but he had several hits, most notably "La Bamba", which was originally a Mexican folk song.  Valens transformed the song into one with a rock rhythm and beat, and it became a hit in 1958, making Valens a pioneer of the Spanish-speaking rock and roll movement.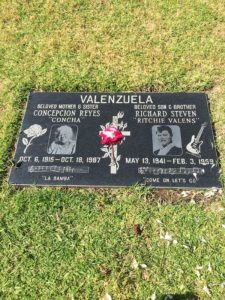 The Final Footprint – Valens was interred at San Fernando Mission Cemetery, Mission Hills, California.  Valens has been the subject of several biopic films, including the 1987 film La Bamba.  Primarily set in 1957-1959, it depicted Valens from age 16 to 17 and introduced Lou Diamond Phillips as Valens.
Roger Peterson
Born Roger Arthur Peterson on 24 May 1937 in Alta, Iowa.  A memorial service for Peterson was held at Redeemer Lutheran Church, Ventura, Iowa on February 5.  A funeral was held the next day at St. Paul Lutheran Church in his hometown of Alta and Peterson was buried in Buena Vista Memorial Cemetery in nearby Storm Lake. Peterson's parents would later receive condolence letters from the families of Holly and Valens.
Have you planned yours yet?
Follow TFF on twitter @RIPTFF