On this day in 1983, drummer, singer and songwriter, Karen Carpenter, died at her parents's home in Downey, California at the age of 32 from complications related to anorexia nervosa.  Born Karen Anne Carpenter on 2 March 1950 in New Haven, Connecticut.  Along with her brother Richard, they formed the duo The Carpenters.  Best known for their album, 1970's Close to You, featuring two big hit singles: "(They Long to Be) Close to You" and "We've Only Just Begun."  The songwriter Tom Bahler wrote the song "She's Out of My Life" after she broke up with him.  The song would eventually became a hit single for Michael Jackson.  Carpenter married Thomas James Burris (1980 – 1983 her death).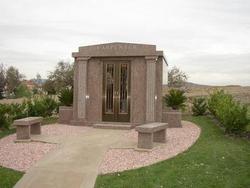 The Final Footprint – Carpenter's funeral service took place on 8 February 1983, at the Downey United Methodist Church.  Dressed in a rose-colored suit, Carpenter lay in an open white casket.  Over 1,000 mourners passed through to say goodbye, among them her friends Dorothy Hamill, Olivia Newton-John, Petula Clark, and Dionne Warwick.  Carpenter's estranged husband Tom attended her funeral, where he took off his wedding ring and placed it inside the casket.  Carpenter was initially entombed in a private crypt in the Ascension Mausoleum, Sanctuary of Compassion, Forest Lawn Memorial Park, Cypress, California.  In 2003, Richard had Karen and their parents moved to the Carpenter Family Private Mausoleum at Pierce Brothers Valley Oaks Memorial Park, Westlake Village, California.  Karen's crypt front features the inscription; A STAR ON EARTH – A STAR IN HEAVEN.
Have you planned yours yet?
Follow TFF on twitter @RIPTFF