On this day in 1587, Queen regnant of Scots,

 Queen consort of France, Mary Stuart, Mary Queen of Scots, was executed at Fotheringhay Castle Northamptonshire, England, at the age of 44.  Born on 8 December 1542 at Linlithgow Palace, Linlithgow, Scotland.  Mary was the only surviving legitimate child of King James V of Scotland.  Mary of Guise was her mother.  She was 6 days old when her father died and she was crowned nine months later.  In 1558, she married Francis, Dauphin of France, who ascended the French throne as Francis II in 1559.  Mary was widowed on 5 December 1560 and then returned to Scotland, arriving in Leith on 19 August 1561.  As a devout Catholic, she was regarded with suspicion by many of her subjects.  Scotland was torn between Catholic and Protestant factions, and Mary's illegitimate half-brother, James Stewart, 1st Earl of Moray, was a leader of the Protestant faction.  The Protestant reformer John Knox also preached against Mary, condemning her for hearing Mass, dancing, dressing too elaborately, and many other real and imagined offences.  In 1565, she married her first cousin, Henry Stuart, Lord Darnley.  Their marriage was not a happy one.  In February 1567, there was an explosion at their house, and Darnley was found dead, apparently strangled, in the garden.  Mary then
married James Hepburn, 4th Earl of Bothwell, who was generally believed to be Darnley's murderer.  Following an uprising against the couple, Mary was imprisoned in Loch Leven Castle on 15 June and forced to abdicate in favour of her one-year-old son, Charles James who then became James VI King of Scots and later James I King of England.  After an unsuccessful attempt to regain the throne, Mary fled to England seeking the protection of her first cousin once removed, Queen Elizabeth I of England.  Mary had previously claimed Elizabeth's throne as her own and was considered the legitimate sovereign of England by many English Catholics, including participants in the Rising of the North.  Perceiving her as a threat, Elizabeth had her arrested.  After 19 years in custody in a number of castles and manor houses in England, she was tried and executed for treason for her alleged involvement in three plots to assassinate Elizabeth.  The motto of Scotland; In My Defens, God Me Defend!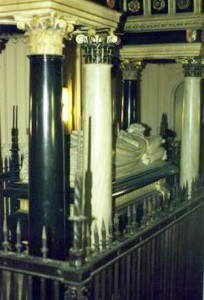 The Final Footprint – Mary was initially entombed in Peterborough Cathedral in Peterborough, England.  James later had his mother's body moved to Westminster Abbey and entombed about 30 feet away from Elizabeth.  The site of her burial vault is marked by an effigial monument.  Other notable Final Footprints at Westminster include; Robert Browning, Lord Byron, Geoffrey Chaucer, Oliver Cromwell, Charles Darwin, Charles Dickens, Edward The Confessor, Elizabeth I, George II, George Friederic Handel, James I (James VI of Scotland), Samuel Johnson, Ben Jonson, Charles II, Edward III, Edward VI, Henry III, Henry V, Henry VII, Richard II, Rudyard Kipling, Henry Wadsworth Longfellow, John Milton, Sir Isaac Newton, Laurence Olivier, Henry Purcell, Mary I, Mary II, Thomas Shadwell, Edmund Spenser, Lord Alfred Tennyson, Dylan Thomas, and William III.
Have you planned yours yet?
Follow TFF on twitter @RIPTFF