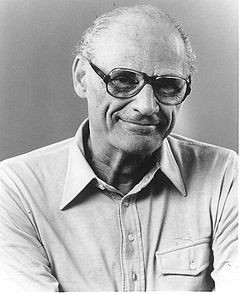 On this day in 2005, playwright and essayist, Tony Award winner, recipient of the Nobel Prize for Drama, Arthur Miller, died at his home in Roxbury, Connecticut at the age of 89.  Born Arthur Asher Miller on 17 October 1915 in Harlem, New York City.  His notable plays include; All My Sons (1947), Death of a Salesman (1949), The Crucible (1953), and A View from the Bridge (one-act, 1955; revised two-act, 1956).  Death of a Saleman was commercially successful and critically acclaimed, winning a Tony Award for Best Author, the New York Drama Circle Critics' Award, and the Pulitzer Prize for Drama; the first play to win all three of these major awards.  Miller received a BA in English from the University of Michigan.  Miller married three times; Mary Slattery (1940 – 1956 divorce), Marilyn Monroe (1956 – 1961 divorce) and Inge Morath (1962 – 2002 her death).  Miller also wrote the screenplay for the movie The Misfits (1961) starring Monroe, Clark Gable, Montgomery Clift and Eli Wallach.  Miller and Monroe would divorce shortly before the movie's premier.  The film marked the final movie for both Monroe and Gable.  Miller's papers are housed at the Harry Ransom Humanities Research Center at The University of Texas at Austin.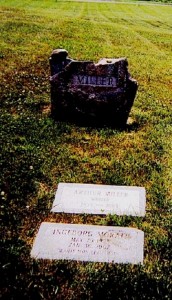 The Final Footprint – Miller is interred with his wife Inge in Roxbury Center Cemetery, Roxbury, Connecticut.  Their grave is marked by an irregular granite upright marker and they each have flat granite foot markers.  Her foot marker is inscribed; BEAUTE MON BEAU DESIR, which translates as, Beauty My Beautiful Desire.
Have you planned yours yet?
Follow TFF on twitter @RIPTFF