On this day in 1650, philosopher, mathematician, scientist and writer, "The Father of Modern Philosophy", René Descartes, died in Stockholm, Sweden at the age of 53.  Born in La Haye en Touraine (now Descartes), Indre-et-Loire, France on 31 March 1596.  He is perhaps best known for the philosophical statement "Cogito ergo sum" (French: Je pense, donc je suis; English: I think, therefore I am; or I am thinking, therefore I exist or I do think, therefore I do exist), found in part IV of Discourse on the Method (1637 – written in French but with inclusion of "Cogito ergo sum") and §7 of part I of Principles of Philosophy (1644 – written in Latin).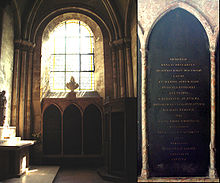 The Final Footprint – As a Catholic in a Protestant nation, he was interred in a graveyard used mainly for orphans in Adolf Fredriks kyrka in Stockholm. In 1666 his remains were taken to France and buried in the Saint-Étienne-du-Mont. Although the National Convention in 1792 had planned to transfer his remains to the Panthéon in Paris, he was entombed in the Abbey of Saint-Germain-des-Prés in 1819, missing a finger and skull. His skull is on display in the Musée de l'Homme in Paris.  The inscription on his tomb, in Latin, reads in part; MEMORIAE RENATI DESCARTES RECONDITIORIS DOCTRINAE LAVDE ET INGENII SVBTILITATE PRAECELLENTISSIMI QVI PRIMVS A RENOVATIS IN EVROPA BONARVM LITTERARVM STVDIIS RATIONIS HVMANAE IVRA SALVA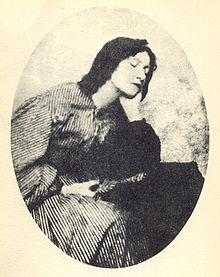 On this day in 1862, wife of Dante Gabriel Rossetti, artists' model, muse, poet and artist Elizabeth 'Lizzie' Siddal died at the age of 32, from complications related to an overdose of laudanum, at her home at 14 Chatham Place, London, now demolished and covered by Blackfriars Station.  Born Elizabeth Eleanor Siddall, on 25 July 1829, at the family's home at 7 Charles Street, Hatton Garden, London.  Siddal was painted and drawn extensively by artists of the Pre-Raphaelite Brotherhood, including Walter Deverell, William Holman Hunt, John Everett Millais (including his notable 1852 painting Ophelia) and her husband.  She featured prominently in Rossetti's early paintings of women.  Rossetti's relationship with Siddal is explored by Christina Rossetti (Dante's sister) in her poem "In an Artist's Studio":
One face looks out from all his canvases,
One selfsame figure sits or walks or leans:
We found her hidden just behind those screens,
That mirror gave back all her loveliness.
A queen in opal or in ruby dress,
A nameless girl in freshest summer-greens,
A saint, an angel – every canvas means
The same one meaning, neither more nor less.
He feeds upon her face by day and night,
And she with true kind eyes looks back on him,
Fair as the moon and joyful as the light:
Not wan with waiting, not with sorrow dim;
Not as she is, but was when hope shone bright;
Not as she is, but as she fills his dream.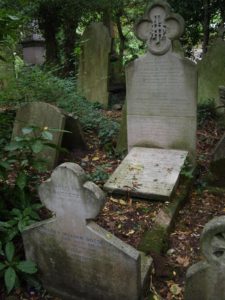 The Final Footprint – Siddal was interred at Highgate Cemetery in London.  Rossetti enclosed in his wife's coffin a journal containing the only copy he had of his many poems.  He reportedly slid the book into Siddal's red hair.  By 1869, before publishing any newer poems, he became obsessed with retrieving the poems he had slipped into his wife's coffin.  Rossetti and his agent, Charles Augustus Howell, applied to the Home Secretary for an order to have her exhumed.  It was done at night to avoid public curiosity and attention.  Rossetti was not present.  Howell reported that her corpse was remarkably well preserved and her delicate beauty intact, probably as a result of the laudanum.  Her hair was said to have continued to grow after death so that the coffin was filled with her flowing coppery hair.  Rossetti published the old poems with his newer ones.  They were not well received by some critics because of their eroticism, and he was reportedly haunted by the exhumation through the rest of his life.
Seven years after his wife's death, Rossetti published a collection of sonnets entitled The House of Life; contained within it was the poem, "Without Her". It is a reflection on life once love has departed:
What of her glass without her? The blank grey
There where the pool is blind of the moon's face.
Her dress without her? The tossed empty space
Of cloud-rack whence the moon has passed away.
Her paths without her? Day's appointed sway
Usurped by desolate night. Her pillowed place
Without her? Tears, ah me! For love's good grace,
And cold forgetfulness of night or day.
What of the heart without her? Nay, poor heart,
Of thee what word remains ere speech be still?
A wayfarer by barren ways and chill,
Steep ways and weary, without her thou art,
Where the long cloud, the long wood's counterpart,
Sheds doubled up darkness up the labouring hill.
— From Without Her
Other notable final footprints and Highgate include: George Eliot, George Michael, Christina Rossetti, and Jean Simmons.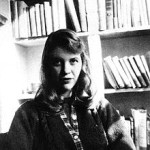 On this day in 1963 poet, novelist, short story writer, Pulitzer Prize recipient, Sylvia Plath committed suicide by carbon monoxide poisoning in the kitchen of her flat at 23 Fitzroy Road near Primrose Hill, London, at the age of 30.  Born on 27 October 1932, in Massachusetts Memorial Hospital, in Boston's Jamaica Plain neighborhood.  Plath studied at Smith College and Newnham College, Cambridge, before receiving acclaim as a professional poet and writer.  She married fellow poet Ted Hughes in 1956 and they lived together first in the United States and then England, having two children together, Frieda and Nicholas.  Plath suffered from depression for much of her adult life.  Controversy continues to surround the events of her life and death, as well as her writing and legacy.  Plath is generally credited with advancing the genre of confessional poetry with her two published collections, The Colossus and Other Poems and Ariel.  In 1982, she won a posthumous Pulitzer Prize for The Collected Poems.  She also wrote The Bell Jar, a semi-autobiographical novel published shortly before her death.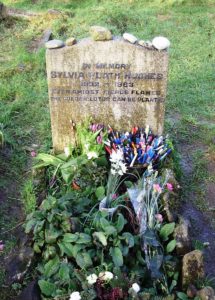 The Final Footprint – Hughes appears to have been devastated by Plath's death, despite the fact that the couple had had been separated five months.  In a letter to an old friend of Plath's from Smith College, he wrote, "That's the end of my life. The rest is posthumous."  Plath is interred in the Heptonstall's parish churchyard of St Thomas the Apostle.  Plath's gravestone bears the inscription that Hughes chose for her:  "Even amidst fierce flames the golden lotus can be planted."  The quote has been variously attributed to the 16th-century Buddhist novel Journey to the West written by Wu Cheng'en or to the Hindu text, the Bhagavad Gita.  The gravestone has been repeatedly vandalized by those aggrieved that "Hughes" is written on the stone; they have attempted to chisel it off, leaving only the name "Sylvia Plath."  When Hughes' partner Assia Wevill killed herself and their four-year-old daughter Shura in 1969, this practice intensified.  After each defacement, Hughes had the damaged stone removed and replaced.  Plath mourners accused Hughes in the media of dishonoring her name by removing the stone.  Wevill's death led to claims that Hughes had been abusive to both Plath and Wevill.  In 1970, poet Robin Morgan published the poem "Arraignment", in which she accused Hughes of the battery and murder of Plath.  Reportedly some threatened to kill him in Plath's name.  In 1989, with Hughes under public attack, a battle raged in the letters pages of The Guardian and The Independent.  In The Guardian on 20 April 1989, Hughes wrote the article "The Place Where Sylvia Plath Should Rest in Peace": "In the years soon after [Plath's] death, when scholars approached me, I tried to take their apparently serious concern for the truth about Sylvia Plath seriously. But I learned my lesson early. […] If I tried too hard to tell them exactly how something happened, in the hope of correcting some fantasy, I was quite likely to be accused of trying to suppress Free Speech. In general, my refusal to have anything to do with the Plath Fantasia has been regarded as an attempt to suppress Free Speech […] The Fantasia about Sylvia Plath is more needed than the facts. Where that leaves respect for the truth of her life (and of mine), or for her memory, or for the literary tradition, I do not know."  Plath was portrayed by Gwyneth Paltrow and Hughes was portrayed by Daniel Craig in the 2003 film Sylvia.
Whitney Houston

Houston performing at Welcome Home Heroes with Whitney Houston in 1991
On this day in 2012, singer, actor, model Whitney Houston died of accidental drowning in her hotel room at the Beverly Hilton, in Beverly Hills, at the age of 48. Born Whitney Elizabeth Houston on August 9, 1963 in Newark, New Jersey. Houston is one of the best-selling music artists of all-time. She released seven studio albums and two soundtrack albums, all of which have diamond, multi-platinum, platinum, or gold certification. Houston's crossover appeal on the popular music charts, as well as her prominence on MTV, starting with her video for "How Will I Know", influenced several artists who follow in her footsteps.
Houston's self-titled debut album (1985) was named by Rolling Stone as the best album of 1986. Her second studio album, Whitney (1987), became the first album by a woman to debut at number one on the Billboard 200 albums chart.
Houston made her screen acting debut as Rachel Marron in the romantic thriller film The Bodyguard (1992). She performed the lead single from the film's original soundtrack, "I Will Always Love You", which received the Grammy Award for Record of the Year. Houston made other high-profile film appearances and contributed to their soundtracks, including Waiting to Exhale (1995) and The Preacher's Wife (1996). The latter's soundtrack became the best-selling gospel album in history.
Throughout the 1980s, Houston was romantically linked to American football star Randall Cunningham and actor Eddie Murphy. She then met R&B singer Bobby Brown at the 1989 Soul Train Music Awards. After a three-year courtship, the two were married on July 18, 1992. On March 4, 1993, Houston gave birth to their daughter Bobbi Kristina Brown (March 4, 1993 – July 26, 2015), the couple's only child. 
The Final Footprint
On February 11, Houston was found unconscious in Suite 434 at the Beverly Hilton Hotel, submerged in the bathtub. Beverly Hills paramedics arrived at approximately 3:30 p.m. and found the singer unresponsive and performed CPR. Houston was pronounced dead at 3:55 p.m. PST. On March 22, 2012, the Los Angeles County coroner's office reported the cause of Houston's death was drowning and the "effects of atherosclerotic heart disease and cocaine use". The manner of death was listed as an "accident".
An invitation-only memorial service was held for Houston on Saturday, February 18, 2012, at the New Hope Baptist Church in Newark, New Jersey. The service was scheduled for two hours, but lasted four. Among those who performed at the funeral were Stevie Wonder(rewritten version of "Ribbon in the Sky", and "Love's in Need of Love Today"), CeCe Winans ("Don't Cry", and "Jesus Loves Me"), Alicia Keys ("Send Me an Angel"), Kim Burrell (rewritten version of "A Change Is Gonna Come"), and R. Kelly ("I Look to You"). The performances were interspersed with hymns by the church choir and remarks by Clive Davis, Houston's record producer; Kevin Costner; Rickey Minor, her music director; her cousin, Dionne Warwick; and Ray Watson, her security guard for the past 11 years. Houston was buried on February 19, 2012, in Fairview Cemetery, in Westfield, New Jersey, next to her father, John Russell Houston, who died in 2003.
Have you planned yours yet?
Follow TFF on twitter @RIPTFF