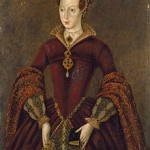 On this day in 1554, English noblewoman, great-granddaughter of Henry VII, cousin of Edward VI, de facto monarch of England from 10 July until 19 July 1553, The Nine Days Queen, Lady Jane Grey and her husband Lord Guildford Dudley were executed by beheading at the Tower of London for high treason against Queen Mary I.  Lady Jane Grey was 16 or 17 years old.  Dudley was 18 or 19.  Lady Jane Grey was the eldest daughter of Henry Grey, 1st Duke of Suffolk, and his wife, Lady Frances Brandon.  The traditional view is that she was born at Bradgate Park in Leicestershire in October 1537, while more recent research indicates that she was born somewhat earlier, possibly in London, in late 1536 or in the spring of 1537.  Guildford Dudley was born c. 1535, the second youngest surviving son of John Dudley, 1st Duke of Northumberland and his wife Jane, daughter of Sir Edward Guildford.  Lady Jane Grey was the great-granddaughter of Henry VII through his younger daughter Mary, and a first cousin once removed of Edward VI.  When the 15-year-old King lay dying in June 1553, he nominated Jane as successor to the Crown in his will, thus subverting the claims of his half-sisters Mary and Elizabeth under the Third Succession Act.  Jane was imprisoned in the Tower of London when the Privy Council decided to change sides and proclaim Mary as queen on 19 July 1553.  Jane was convicted of high treason in November 1553, which carried a sentence of death, although her life was initially spared.  Wyatt's rebellion of January and February 1554 against Queen Mary I's plans for a Spanish match led to the executions.  Lady Jane Grey had an excellent humanist education and a reputation as one of the most learned young women of her day.  A committed Protestant, she was posthumously regarded as not only a political victim but also a martyr.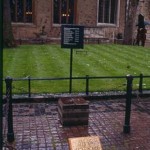 The Final Footprint –  On the morning of 12 February 1554, the authorities took Dudley from his rooms at the Tower of London to the public execution place at Tower Hill, where he was beheaded.  A horse and cart brought his remains back to the Tower, past the rooms where Jane was staying.  Seeing her husband's corpse return, Jane is reported to have exclaimed: "Oh, Guildford, Guildford."  She was then taken out to Tower Green, inside the Tower, to be beheaded.  According to the account of her execution given in the anonymous Chronicle of Queen Jane and of Two Years of Queen Mary, which formed the basis for Raphael Holinshed's depiction, Jane gave a speech upon ascending the scaffold:
Good people, I am come hither to die, and by a law I am condemned to the same. The fact, indeed, against the Queen's highness was unlawful, and the consenting thereunto by me: but touching the procurement and desire thereof by me or on my behalf, I do wash my hands thereof in innocency, before God, and the face of you, good Christian people, this day.
She then recited Psalm 51 (Have mercy upon me, O God) in English, and handed her gloves and handkerchief to her maid.  The executioner asked her forgiveness, which she granted him, pleading: "I pray you dispatch me quickly."  Referring to her head, she asked, "Will you take it off before I lay me down?", and the axeman answered: "No, madam."  She then blindfolded herself.  With her head on the block, Jane spoke the last words of Jesus as recounted by Luke: "Lord, into thy hands I commend my spirit!"  Jane and Guildford are buried in the Chapel of St Peter ad Vincula on the north side of Tower Green.  Jane's father, Duke of Suffolk, was executed 11 days after Jane, on 23 February 1554.  Jane could be called the traitor-heroine of the Reformation.  During and in the aftermath of the Marian persecutions, Jane became viewed as a Protestant martyr for centuries, featuring prominently in the several editions of the Book of Martyrs by John Foxe.  The tale of Lady Jane grew to legendary proportions in popular culture, producing a flood of romantic biographies, novels, plays, paintings, and films, one of which was the 1986 production Lady Jane, starring Helena Bonham Carter.  Other notable final footprints at the Chapel include:  William Hastings, 1st Baron Hastings; Queen Anne Boleyn, second wife of King Henry VIII; Margaret, Countess of Salisbury, the last of the Plantagenet dynasty; Queen Catherine Howard, fifth wife of Henry VIII; Jane Boleyn, Viscountess Rochford; and Robert Devereux, 2nd Earl of Essex.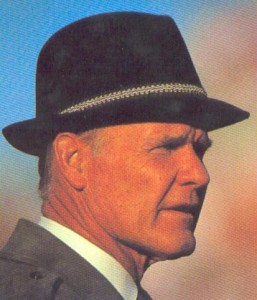 On this day in 2000, Texas Longhorn, U. S. Army Air Corp veteran, Hall of Fame coach, Tom Landry died in Dallas, Texas at the age of 75.  Born Thomas Wade Landry on 11 September 1924 in Mission, Texas.  Landry played fullback and defensive back for the Longhorns and was an all-pro defensive back for the New York Giants.  He began his coaching career with the Giants, serving as their defensive coordinator from 1954 to 1959.  The Giants offensive coordinator at that time was Vince Lombardi.  The Giants appeared in three NFL Championship games during Landry's tenure.  Landry was the first coach to employ a 4-3 defensive formation.  In 1960 he became the head coach of the newly established Dallas Cowboys.  Landry served as head coach of the Cowboys until 1988 during which time the Cowboys won two Super Bowl titles (VI, XII), 5 NFC titles, 13 Divisional titles, and compiled a 270-178-6 record, the 3rd most wins of all time for an NFL coach.  His 20 career playoff victories are the most of any coach in NFL history.  Landry coached the Cowboys to 20 consecutive winning seasons (1966–1985), an NFL record that remains unbroken and unchallenged.  It remains one of the longest winning streaks in all of professional sports history.  Landry was married to Alicia Wiggs (1949 – 2000 his death).  My heroes have always been Cowboys.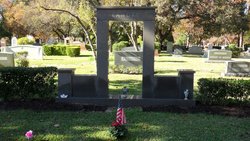 The Final Footprint – Landry is interred in the Landry Private Estate in Sparkman Hillcrest Cemetery, a Dignity Memorial property, in Dallas.  The estate is marked by a granite cap monument.  His grave is marked by a flat granite foot marker with the inscription; WELL DONE, GOOD AND FAITHFUL SERVANT ENTER INTO THE JOY OF THY LORD. MATTHEW 25:21.  An upright companion granite marker was placed in the official Texas State Cemetery in Austin in Landry's honor.  One side of the monument features the Cowboy star and an image of a fedora, his tradmark hat.  The other side features the Cowboy star and a bronze image of Landry and a list of his accomplishments.  A bronze statue of Landry is outside Cowboys Stadium.  Other notable final footprints at Sparkman-Hillcrest include businessman H.L. Hunt and Mickey Mantle. 
Al Jarreau

Jarreau performing in January 1981.

Background information
On this day in 2017, singer and musician Al Jarreau died of respiratory failure, at the age of 76, in Los Angeles. Born Alwin Lopez Jarreau on March 12, 1940 in Milwaukee, Wisconsin. He received a total of seven Grammy Awards and was nominated for over a dozen more. Perhaps best known for his 1981 album Breakin' Away. He also sang the theme song of the late-1980s television series Moonlighting, and was among the performers on the 1985 charity song "We Are the World."
Jarreau was married twice. Jarreau and Phyllis Hall were married from 1964 until their divorce in 1968. Jarreau's second wife was model Susan Elaine Player, who was fourteen years his junior. They were married from 1977 until his death in 2017.
The Final Footprint
He is interred in the Forest Lawn Memorial Park (Hollywood Hills). Other notable final footprints at Hollywood Hills include Gene Autry, Sandra Dee, Carrie Fisher, Bobby Fuller, Lemmy Kilmister, Strother Martin, Ricky Nelson, and Debbie Reynolds.
Have you planned yours yet?
Follow TFF on twitter @RIPTFF