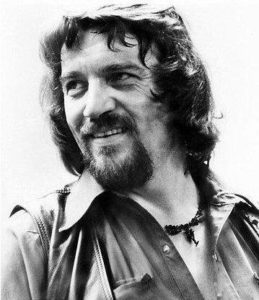 On this day in 2002, singer and songwriter, Waylon Jennings, died of diabetic complications in Chandler, Arizona at the age of 64.  Born Waylon Arnold Jennings on 15 June 1937 in Littlefield, Texas.  Jennings played bass for Buddy Holly following the break-up of The Crickets.  Jennings escaped death in the 3 February 1959, plane crash that took the lives of Holly, Ritchie Valens, and J.P. "The Big Bopper" Richardson, when he gave up his seat on the plane to Richardson.  One of the founding members of the outlaw movement in country music.  Jennings was a member of the supergroup The Highwaymen along with Johnny Cash and fellow Texans Willie Nelson and Kris Kristofferson.  Jennings married four times, the last to Jessi Colter (1969 – 2002 his death).  One of my songwriting heroes.  My list of favorite Waylon songs would be lengthy.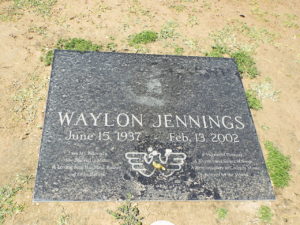 The Final Footprint – Jennings is interred in City of Mesa Cemetery, Mesa, Arizona.  His grave is marked by a individual flat granite marker featuring his picture and the following inscriptions; I am My Beloved's, My Beloved is Mine.  Loving Son, Husband, Father, and Grandfather.  A Vagabond Dreamer, A Rhymer of Songs.  A Revolutionary in Country Music Beloved by the World.
Have you planned yours yet?
Follow TFF on twitter @RIPTFF