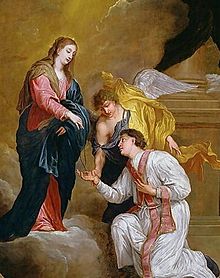 On this day ca. 269, Roman saint, Saint Valentine was martyred.  Saint Valentine has been associated since the High Middle Ages with a tradition of courtly love.  All that is reliably known about Saint Valentine is his name and that he was martyred and buried at a cemetery on the Via Flaminia close to the Milvian bridge to the north of Rome on February 14.  It is uncertain whether St. Valentine is to be identified as one saint or the conflation of two saints of the same name.  Several different martyrologies have been added to later hagiographies that are unreliable.
The ancient Romans had a fertility festival celebrated at mid-February of every year, called Lupercalia in honor of Lupa, the wolf who was said to have suckled Romulus and Remus, who went on to found the city of Rome.  Lupercalia was a pagan fertility festival celebrated with sacrifices of goats and dogs, with milk and wool and blood.  Young men would cut strips from the skins of the goats then strip naked and run through the city in groups, where young women would line up to be spanked with the switches, believing it would improve their fertility.  Lupercalia was still wildly popular long after the Roman Empire was officially Christian, and it's not difficult to see why the Church would have wished to have a different sort of holiday take its place.
Because so little is known of Saint Valentine, in 1969 the Roman Catholic Church removed his name from the General Roman Calendar, leaving his liturgical celebration to local calendars.  The Roman Catholic Church continues to recognize him as a saint, listing him as such in the February 14 entry in the Roman Martyrology, and authorizing liturgical veneration of him on February 14 in any place where that day is not devoted to some other obligatory celebration in accordance with the rule that on such a day the Mass may be that of any saint listed in the Martyrology for that day.  Use of the pre-1970 liturgical calendar is also authorized under the conditions indicated in the motu proprio Summorum Pontificum of 2007.  Saint Valentine's Church in Rome, built in 1960 for the needs of the Olympic Village, continues as a modern, well-visited parish church.  Saint Valentine's Day, the Feast of Saint Valentine, is an official feast day in the Anglican Communion, as well as in the Lutheran Church.
Chaucer wrote in The Parlement of Foules of a spring landscape "on seynt Valentynes day" where the goddess Nature watched as every kind of bird came before her to choose and seduce their mates.
In the early 15th century, the Duke of Orleans wrote a Valentine's poem to his faraway wife while held captive in the Tower of London.  Shakespeare mentioned the sending of Valentines in Ophelia's lament in Hamlet.  The tradition of sending lacy love notes on Valentine's Day was enormously popular with the Victorians.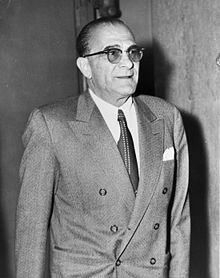 On this day in 1969, Italian mafioso, Vito Genovese, died in federal prison in Springfield, Missouri at the age of 71.  Born 27 November 1897 in Rosiglino, Tufino, Province of Naples, Italy.  Genovese rose to power in America during the Castellammarese War to later become leader of the Genovese crime family.  Genovese served as mentor to many future mob bosses including Vincent "The Chin" Gigante, and Michael "Mike the Pipe" Genovese.  In the 1920's, New York's two leading mobsters were Joe "The Boss" Masseria and Salvatore Maranzano.  They were engaged in what would be known as the infamous Castellammarese War.  Lucky Luciano worked his way up to be Masseria's top aide, but Luciano made a deal with Maranzano whereby Luciano would set up the death of Masseria in return for Maranzano's support of Luciano becoming the head of the Masseria family and thus ending the destructive war.  Masseria was assassinated in a Coney Island restaurant by Bugsy Siegel, Genovese, and Joe Adonis.  Maranzano then declared Luciano his number two man, and set up the Five Families of New York (Luciano/Genovese, Gambino, Lucchese, Colombo, and Bonanno).  When Luciano was sent to prison in 1936, Genovese became the acting boss of the Lucianao family.  However in 1937, Genovese was indicted on a murder charge and he fled to Italy.  When he returned to the U. S. he regained power over the Luciano family and renamed the family Genovese.  In 1959, Genovese was convicted of selling heroin and sentenced to 15 years in prison.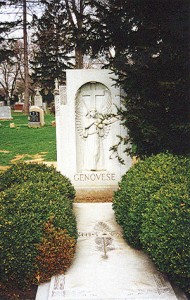 The Final Footprint – Genovese is interred in Saint John Cemetery, Middle Village, New York.  St. John is an official Roman Catholic burial ground located in Middle Village in Queens a borough of New York City.  It is one of nine official Roman Catholic burial grounds to service the New York Metropolitan Area.  St. John is one of the largest cemeteries in New York.  Since its opening, St. John has been the resting place of various famous and infamous people in New York society, most famously being John F. Hylan (1868-1936), mayor of the city of New York from 1918-1925.  The most notorious being Genovese and John J. Gotti (1940-2002), the head of the New York based Gambino crime family from 1985-2002.  Genovese's grave is marked by a large upright marble monument.
Have you planned yours yet?
Follow TFF on twitter @RIPTFF