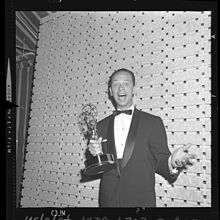 On this day in 2006, five years ago, comedic actor, Don Knotts, died at the Cedars-Sinai Medical Center in Los Angeles, California from pulmonary and respiratory complications related to lung cancer at the age of 81.  Born Jesse Donald Knotts on 21 July 1924 in Morgantown, West Virginia.  Perhaps best known for his portrayal of Barney Fife on the 1960's television sitcom The Andy Griffith Show, a role which earned him five Emmy Awards. He also played landlord Ralph Furley on the 1970's television sitcom Three's Company.  The Andy Griffith Show was televised by CBS between 3 October 1960 and 1 April 1968.  Andy Griffith portrayed a widowed sheriff in the fictional small town of Mayberry, North Carolina.  In addition to the character Fife, the show featured his spinster aunt and housekeeper, Aunt Bee (Frances Bavier), and his young son, Opie (Ron Howard, billed as Ronny).  The show was a major hit, never placing lower than seventh in the Nielsen ratings and ending its final season at number one and spawned a spin-off series, Gomer Pyle, U.S.M.C. (1964), a sequel series, Mayberry R.F.D. (1968), and a reunion telemovie, Return to Mayberry (1986).  Reruns currently air across the United States, and the complete series is available on DVD.  The opening theme song, "The Fishin' Hole", was composed by Earle Hagen.  Rare is the person who has not whistled that tune.  Knotts and Griffith formed a lifelong friendship.  Knotts was married three times; Kathryn Metz 1(947–1964 divorce); Loralee Czuchna (1974–1983 divorce); and Frances Yarborough from (2002-2006 his death).  He graduated from the University of West Virginia.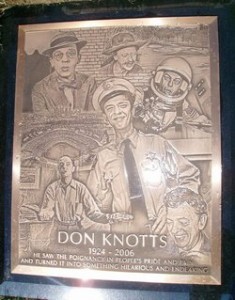 The Final Footprint – Knotts is interred at Pierce Brothers Westwood Village Memorial Park and Mortuary ( a Dignity Memorial property).  His grave is marked by a montage flat bronze on granite marker with the inscription; HE SAW THE POIGNANCY IN PEOPLE'S PRIDE AND PAIN AND TURNED IT INTO SOMETHING HILARIOUS AND ENDEARING.  His statue stands in a memorial park on Don Knotts Boulevard in Morgantown.  Other notable final footprints at Westwood include; Ray Bradbury, Sammy Cahn, Truman Capote, James Coburn, Rodney Dangerfield, Janet Leigh, Farrah Fawcett, Brian Keith, Burt Lancaster, Peter Lawford, Peggy Lee, Jack Lemmon, Karl Malden, Dean Martin, Walter Mathau, Marilyn Monroe, Carroll O'Connor, Roy Orbison, George C. Scott, Dorothy Stratten, Natalie Wood and Frank Zappa.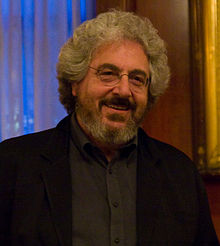 On this day in 2012, actor, director and writer Harold Ramis died from complications from autoimmune inflammatory vasculitis at his home on Chicago's North Shore, at age 69.  Born Harold Allen Ramis on 21 November 1944 in Chicago.  Perhaps his best-known film acting roles are as Egon Spengler in Ghostbusters (1984) and Russell Ziskey in Stripes (1981); he also co-wrote both films.  As a writer-director, his films include the comedies Caddyshack (1980), National Lampoon's Vacation (1983), Groundhog Day (1993) and Analyze This (1999).  Ramis was the original head writer of the television series SCTV, on which he also performed, and one of three screenwriters of the film National Lampoon's Animal House (1978).  His films have influenced subsequent generations of comedians and comedy writers.  Ramis was married twice; Anne Plotkin (1967 – 1984 separated, later divorced) and Erica Mann (1989 – 2014 his death).  The Final Footprint – A private funeral was held for Ramis with family, friends, and several collaborators in attendance including Dan Aykroyd, Chevy Chase, Eugene Levy, Dave Thomas, and John Belushi's widow, Judith Jacklin Belushi.  Ramis is interred at Shalom Memorial Park in Arlington Heights.
Have you planned yours yet?
Follow TFF on twitter @RIPTFF