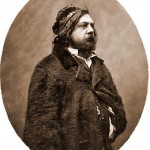 On this day in 1872, French poet, dramatist, novelist, journalist, art critic and literary critic Théophile Gautier died at the age of 61 in Paris due to a long-standing cardiac disease.  Born Pierre Jules Théophile Gautier on 30 August 1811 in Tarbes, capital of Hautes-Pyrénées département in southwestern France.  He was made a Chevalier de la Legion d'honneur in 1842 and promoted to an Officier de la Legion d'honneur in 1858.  Gautier was an ardent defender of Romanticism, yet his work is difficult to classify and remains a point of reference for many subsequent literary traditions such as Parnassianism, Symbolism, Decadence and Modernism. 

The Final Footprint – Gautier is interred at the Cimetière de Montmartre in Paris.  Two poems from "Émaux et camées"—"Sur les lagunes" and the second of two titled "Études de Mains"—are featured in Oscar Wilde's The Picture of Dorian Gray.  Dorian reads them out of the book shortly after Basil Hallward's murder.  Other notable final footprints at Montmartre include composer Hector Berlioz, French singer Dalida, artist Edgar Degas, author Alexandre Dumas, fils, and composer Jacques Offenbach.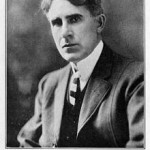 On this day in 1939,  author Zane Grey died of heart failure at the age of 67, at his home in Altadena, California.  Born Pearl Zane Gray on 31 January 1872, in Zanesville, Ohio.  Perhaps best known for his popular adventure novels and stories that presented an idealized image of the American frontier.  Riders of the Purple Sage (1912) was his best-selling book.  In addition to the success of his printed works, they later had second lives and continuing influence when adapted as films and television productions.  As of 2012, 112 films, two television episodes, and a television series, Dick Powell's Zane Grey Theater, had been made that were based loosely on his novels and short stories.  Grey married Lin "Dolly" Roth (1905 – 1939 his death).  During his courtship of Dolly, Grey still saw previous girlfriends and warned her, "But I love to be free. I cannot change my spots. The ordinary man is satisfied with a moderate income, a home, wife, children, and all that….But I am a million miles from being that kind of man and no amount of trying will ever do any good". He added, "I shall never lose the spirit of my interest in women."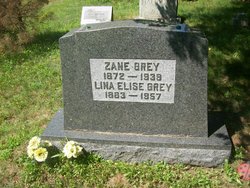 The Final Footprint – Grey was interred at the Union Cemetery in Lackawaxen, Pennsylvania.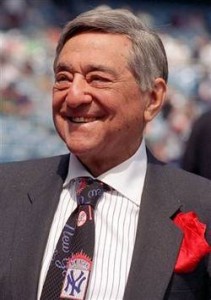 On this day in 2004, operatic baritone and Metropolitan Opera star, Robert Merrill died at his home in New Rochelle, New York at the age of 87 while watching Game 1 of the 2004 World Series between the Boston Red Sox and the St. Louis Cardinals.  Born Moishe Miller the son of Polish immigrants in Brooklyn on 4 June 1917.  Merrill made his operatic debut in Verdi's Aida in Newark, New Jersey and his Metropolitan Opera debut in 1945, as Germont in Verdi's La Traviata.  In 1969, he sang the Star Spangled Banner on Opening Day at Yankee Stadium and it became a tradition to have him sing on Opening Day and on special occasions.  A recorded version is sometimes still played today.  The Final Footprint – Merrill is interred in Sharon Gardens Cemetery in Valhalla, New York.
His Grave is marked by a large upright granite marker featuring an opera curtain that has been drawn open.  In keeping with Jewish tradition, loose rocks rest on top of the marker.  A foot marker is engraved with the following:  Like a bursting celestial star, he showered his family and the world with love, joy, and beauty. Encore please.
Have you planned yours yet?
Follow TFF on twitter @RIPTFF