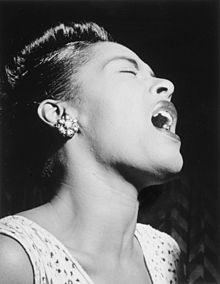 On this day in 1959, jazz singer and songwriter, Lady Day, Billie Holiday died from cirrhosis of the liver at Metropolitan Hospital in New York at the age of 44.  Born Eleanora Fagan on 7 April 1915 in Philadelphia, Pennsylvania.  One of my very favorite singers.  In my opinion, she had a seminal influence on jazz and pop singing.  Holiday possibly took her professional name from Billie Dove, an actress she admired, and the musician Clarence Holiday, her probable father.  She apparently worked as a prostitute in Harlem before she began singing in clubs.  My favorite songs performed by Holiday include; "Embraceable You" written by George and Ira Gershwin, "God Bless the Child" written by Holiday and Arthur Herzog, Jr. and "Pennies from Heaven" written by Arthur Johnston and Johnny Burke.  Frank Sinatra had this to say of Holiday; "With few exceptions, every major pop singer in the US during her generation has been touched in some way by her genius.  It is Billie Holiday who was, and still remains, the greatest single musical influence on me.  Lady Day is unquestionably the most important influence on American popular singing in the last twenty years."  Her autobiography, Lady Sings the Blues, was ghostwritten by William Dufty and published in 1956.  Holiday married twice; Jimmy Monroe (1941-1947 divorce), Louis McKay (1957-1959 her death).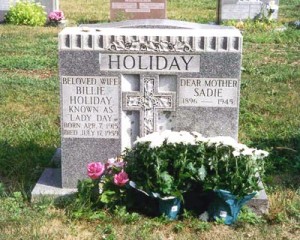 The Final Footprint – Holiday is interred next to her mother Sadie in Saint Raymonds Cemetery New in the Bronx.  Their graves are marked by an upright companion granite marker.  Holiday's term of endearment says; BELOVED WIFE.  Diana Ross portrayed Holiday in the film Lady Sings the Blues, which is loosely based on Holiday's autobiography.  The film earned Ross a nomination for the Academy Award for Best Actress.  Holiday was posthumously awarded the Grammy Lifetime Achievement Award.  In 1988 the group U2 released "Angel of Harlem" in her honor.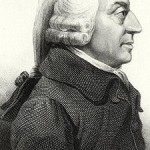 On this day in 1790, Scottish moral philosopher and a pioneer of political economy, Adam Smith died in the northern wing of Panmure House in Edinburgh after a painful illness at the age of 67.  Born 5 June 1723 OS (16 June 1723 NS) in Kirkcaldy, Scotland.  One of the key figures of the Scottish Enlightenment, Adam Smith is best known for two classic works: The Theory of Moral Sentiments (1759), and An Inquiry into the Nature and Causes of the Wealth of Nations (1776).  The latter, usually abbreviated as The Wealth of Nations, is considered his magnum opus and the first modern work of economics.  Smith is cited as the "father of modern economics" and is still among the most influential thinkers in the field of economics today.  Smith studied social philosophy at the University of Glasgow and at Balliol College, Oxford, where he was one of the first students to benefit from scholarships set up by his fellow Glaswegian John Snell.  After graduating, he delivered a successful series of public lectures at the University of Edinburgh, leading him to collaborate with David Hume during the Scottish Enlightenment.  Smith obtained a professorship at Glasgow teaching moral philosophy, and during this time he wrote and published The Theory of Moral Sentiments.  In his later life, he took a tutoring position that allowed him to travel throughout Europe, where he met other intellectual leaders of his day.  Smith then returned home and spent the next ten years writing The Wealth of Nations, publishing it in 1776.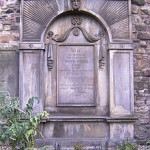 The Final Footprint – Smith was buried in the Canongate Kirkyard in Edinburgh.  On his death bed, Smith expressed disappointment that he had not achieved more. His grave is a place of pilgrimage for economists of the world.  Although an imposing railed monument, it may have been altered in the 1930s, as it was then described as "too small to notice".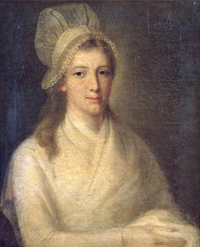 On this day in 1793, a figure of the French Revolution, the Angel of Assassination, Charlotte Corday was executed under the guillotine for the assassination of Jacobin leader Jean-Paul Marat, in Paris at the age of 24.  Born Marie-Anne Charlotte de Corday d'Armont on 27 July 1768 in Saint-Saturnin-des-Ligneries, a hamlet in the commune of Écorches (Orne), in Normandy.  Marat was in part responsible, through his role as a politician and journalist, for the more radical course the Revolution had taken.  More specifically, he played a substantial role in the political purge of the Girondins, with whom Corday sympathized.  His murder was memorialized in a celebrated painting by Jacques-Louis David which shows Marat after Corday had stabbed him to death in his bathtub.  In 1847, writer Alphonse de Lamartine gave Corday the posthumous nickname l'ange de l'assassinat (the Angel of Assassination).  At her trial, when Corday testified that she had carried out the assassination alone, saying "I killed one man to save 100,000," she was likely alluding to Maximilien Robespierre's words before the execution of King Louis XVI.  The Final Footprint – Corday's body was disposed of in the Madeleine Cemetery.  The decapitated corpses of the guillotine victims were thrown in specially dug trenches and covered in quicklime to speed up the decomposition process.  There were no markers.  After her decapitation, a man named Legros apparently lifted her head from the basket and slapped it on the cheek.  Charles-Henri Sanson, the executioner, indignantly rejected published reports that Legros was one of his assistants.  However, Sanson stated in his diary that Legros was in fact a carpenter who had been hired to make repairs to the guillotine.  Witnesses report an expression of "unequivocal indignation" on her face when her cheek was slapped.  This slap was considered unacceptable and Legros was imprisoned for three months because of his outburst.  Jacobin leaders had her body autopsied immediately after her death to see if she was a virgin.  They believed there was a man sharing her bed and the assassination plans.  To their dismay, she was found to be virgo intacta (a virgin), a condition that focused more attention on women throughout France, laundresses, housewives, domestic servants, who were also rising up against authority after having been controlled by men for so long.  The assassination did not stop the Jacobins or the Terror: Marat became a martyr, and busts of him replaced crucifixes and religious statues that had been banished under the new regime.
On this day in 1881, one of the foremost mountain men, trappers, scouts and guides who explored and trapped the Western United States during the decades of 1820-1850, Jim Bridger died on his farm near Kansas City, Missouri at the age of 77.  Born James Felix Bridger on 17 March 1804 in Richmond, Virginia.  Bridger had a strong constitution that allowed him to survive the extreme conditions he encountered walking the Rocky Mountains from what would become southern Colorado to the Canadian border.  He had conversational knowledge of French, Spanish and several native languages.  He would come to know many of the major figures of the early west, including Brigham Young, Kit Carson, George Armstrong Custer, John Fremont, Joseph Meek, and John Sutter.  The Final Footprint – For some 23 years, Bridger's grave was located in a nondescript cemetery just a few hundred yards from his farm house, but his remains were re-interred in the more notable Mount Washington Cemetery in Independence, Missouri in 1904.  Bridger is briefly mentioned in Sydney Pollack's 1972 film Jeremiah Johnson, starring Robert Redford in which Will Geer's character introduces himself as, "Bear Claw Chris Lapp, blood kin to the grizz that bit Jim Bridger's ass".  In the 2009 Quentin Tarantino movie Inglourious Basterds, lead character Lt. Aldo Raine (portrayed by actor Brad Pitt) states: "Now, I am the direct descendant of the mountain man Jim Bridger. That means I got a little Injun in me. And our battle plan will be that of an Apache resistance." Consequently, his nickname in the movie is "Aldo the Apache."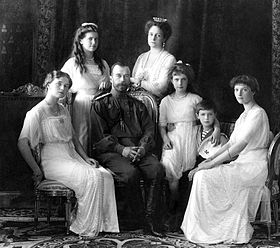 On this day in 1918, The Russian Imperial Romanov family (Tsar Nicholas II, his wife Tsarina Alexandra and their five children Olga, Tatiana, Maria, Anastasia, and Alexei) and all those who chose to accompany them into exile – notably Eugene Botkin, Anna Demidova, Alexei Trupp and Ivan Kharitonov, were shot in Yekaterinburg on 17 July 1918.  The murder of the Tsar was carried out by the Ural Soviet which was led by Yakov Yurovsky.  In the opinion of historians, the murder had been ordered in Moscow by Vladimir Lenin and Yakov Sverdlov to prevent the rescue of the Imperial Family by approaching White forces during the ongoing Russian Civil War.  The Final Footprint – Early next morning, when rumours spread in Yekaterinburg about the disposal site, Yurovsky removed the bodies and hid them elsewhere.  When the vehicle carrying the bodies broke down on the way to the next chosen site, Yurovsky made new arrangements, and buried most of the acid-covered bodies in a pit sealed and concealed with rubble, covered over with railroad ties and then earth on Koptyaki Road, a cart track (subsequently abandoned) 12 miles (19 km) north of Yekaterinburg.  In July 1991, the remains of all the family and their retainers (except two of the children, who were identified in 2008) were found by amateur enthusiasts and reburied by the Russian government following a state funeral.  A ceremony of Christian burial took place in 1998.  The bodies were laid to rest with state honors in the St. Catherine Chapel of the Peter and Paul Cathedral in Saint Petersburg, where most other Russian monarchs since Peter the Great lie.  President Boris Yeltsin and his wife attended the funeral along with Romanov relations, including Prince Michael of Kent.  On 15 August 2000, the Russian Orthodox Church announced the canonization of the family for their "humbleness, patience and meekness".  However, reflecting the intense debate preceding the issue, the bishops did not proclaim the Romanovs as martyrs, but passion bearers instead (see Romanov sainthood).  On 1 October 2008, the Supreme Court of the Russian Federation ruled that Nicholas II and his family were victims of political repression and rehabilitated them.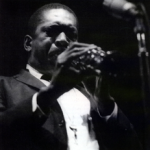 On this day in 1967, United States Navy veteran, jazz saxophonist and composer, Trane, John Coltrane died from liver cancer at Huntington Hospital on Long Island at the age of 40.  Born John William Coltrane on 23 September 1926 in Hamlet, North Carolina.  Working in the bebop and hard bop idioms early in his career, Coltrane helped pioneer the use of modes in jazz and later was at the forefront of free jazz.  He organized at least fifty recording sessions as a leader during his recording career, and appeared as a sideman on many other albums, notably with trumpeter Miles Davis and pianist Thelonious Monk.   As his career progressed, Coltrane and his music took on an increasingly spiritual dimension.  Coltrane influenced innumerable musicians, and remains one of the most significant saxophonists in jazz history.  He received many posthumous awards and recognitions, including canonization by the African Orthodox Church as Saint John William Coltrane.  In 2007, Coltrane was awarded the Pulitzer Prize Special Citation for his "masterful improvisation, supreme musicianship and iconic centrality to the history of jazz.  The Final Footprint – Coltrane's funeral was held at St. Peters Lutheran Church in New York City.  The Albert Ayler Quartet and The Ornette Coleman Quartet respectively opened and closed the service.  He is buried at Pinelawn Cemetery in Farmingdale, N.Y.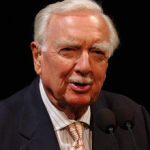 On this day in 2009,  broadcast journalist, Texas Longhorn, Walter Cronkite died at his home in New York City, at the age of 92. He is believed to have died from cerebrovascular disease.  Born Walter Leland Cronkite, Jr. on 4 November 1916 in Saint Joseph, Missouri.  Best known as anchorman for the CBS Evening News for 19 years (1962–81), and for being the "the most trusted man in America".  He reported many events from 1937 to 1981, including bombings in World War II; the Nuremberg trials; combat in the Vietnam War; Watergate; the Iran Hostage Crisis; and the murders of President John F. Kennedy, civil rights pioneer Martin Luther King, Jr., and Beatles musician John Lennon.  He was also known for his extensive coverage of the U.S. space program, from Project Mercury to the Moon landings to the Space Shuttle.  He was the only non-NASA recipient of a Moon-rock award.  Cronkite is well known for his departing catchphrase "And that's the way it is," followed by the date on which the appearance aired.  Cronkite was married for nearly sixty-five years to Mary Elizabeth 'Betsy' Maxwell (25 January 1916 – 15 March 2005), from 30 March 1940 until her death from cancer.  I watched his final broadcast with friends at a bar in Austin.  The Final Footprint – Cronkite's funeral took place on 23 July 2009 at St. Bartholomew's Church in midtown Manhattan, New York City.  At his funeral, his friends noted his love of music, including, recently, drumming.  He was cremated and his remains buried next to his wife, Betsy, in the family plot at Mount Moriah Cemetery in Kansas City, Missouri.
Have you planned yours yet?
Follow TFF on twitter @RIPTFF