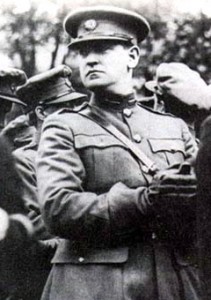 On this day in 1922, Irish revolutionary leader Michael Collins was shot and killed during the Irish Civil War in Béal na mBláth, County Cork, Ireland at the age of 31.  Most Irish political parties recognise his contribution to the foundation of the modern Irish state.  The supporters of Fine Gael hold his memory in particular esteem, regarding him as their movement's founding father, through his link to their precursor Cumann na nGaedheal.  Born on 16 October 1890 in Sam's Cross, County Cork, Ireland.  At the time of his death, he was engaged to Kitty Kiernan.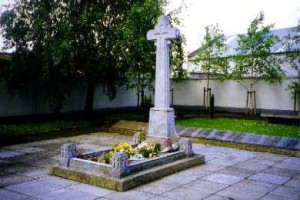 The Final Footprint– Collins is interred in Glasnevin Cemetery in Dublin.  His grave is marked by a large upright stone cross.  His body lay in state for three days in Dublin City Hall where tens of thousands of mourners filed past his coffin to pay their respects.  His funeral mass took place at Dublin's Pro Cathedral.  An estimated 500,000 people attended his funeral, almost one fifth of the country's population.  An annual commemoration ceremony takes place each year in August at the ambush site at Béal na mBláth, Cork.  There is also a remembrance ceremony in Glasnevin at Collins' graveside.  The Collins 22 Society established in 2002 is an international organisation dedicated to keeping the name and legacy of Collins in living memory.  Collins was portrayed by Liam Neeson in the film Michael Collins (1996) featuring Aidan Quinn, Stephen Rea, Alan Rickman and Julia Roberts.  Maude Gonne is also interred at Glasnevin.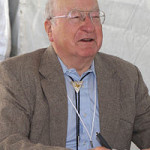 On this day in 2009, graduate of the University of Texas at Austin, journalist and writer, known particularly for his Western novels, Elmer Kelton died of natural causes in San Angelo, Texas at the age of 83.  Born on 29 April 1926 at a place called Horse Camp on the Five Wells Ranch, owned by the Scharbauer Cattle Company, in Andrews County, Texas, just east of the city of Andrews.  The Final Footprint – His funeral was held on 27 August 2009, at the First United Methodist Church in San Angelo.  A life-size statue of Kelton by Raul Ruiz displayed at the Stevens Central Library in San Angelo.  His final resting place is Lawnhaven Memorial Gardens, a Dignity Memorial property, in San Angelo.
On this day in 2011, lyricist, half of the influential songwriting team of Leiber and Stoller, Jerry Leiber died in Cedars Sinai Medical Center in Los Angeles at the age of 78 from cardio-pulmonary failure.  Born on 25 April 1933 in Baltimore, Maryland. Leiber and Stoller's songs include "Hound Dog", "Jailhouse Rock", "Don't", "Kansas City", "Stand By Me" (with Ben E. King), and "On Broadway" (with Barry Mann and Cynthia Weil).  The Final Footprint – His final resting place is Hillside Memorial Park, Culver City, California.  Other notable Final Footprints at Hillside Memorial include; comedian Jack Benny, comedian Milton Berle, actress Cyd Charisse, actor Lorne Greene, actor Moe Howard, entertainer Al Jolson, actor Michael Landon, actress Suzanne Pleshette, entertainer Dinah Shore, and actress Shelley Winters.
Have you planned yours yet?
Follow TFF on twitter @RIPTFF