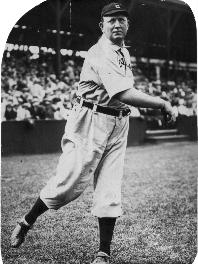 On this day in 1955 baseball Hall of Famer, Cy Young, died on his farm near Newcomerstown, Ohio at the age of 88.  Born Denton True Young on 29 March 1867 in Gilmore, Ohio.  During his 22-year career he pitched for five different teams; Cleveland Spiders, St. Louis Perfectos, Boston Americans/Red Sox, Cleveland Naps and the Boston Rustlers.  He pitched three no hitters and one perfect game, earned one world series ring and still holds five MLB records.  The Final Footprint –  Young is interred in Peoli Cemetery in Peoli, Ohio alongside his wife Roba Miller Young.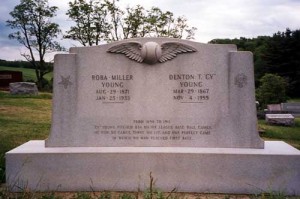 Their graves are marked by a large upright granite marker inscribed as follows:  FROM 1890 TO 1911 "CY YOUNG" PITCHED 874 MAJOR LEAGUE BASE BALL GAMES.  HE WON 511 GAMES, THREE NO HIT, AND ONE PERFECT GAME IN WHICH NO MAN REACHED FIRST BASE.  One year after Young's death, the Cy Young Award was created to honor the previous season's best pitcher.  The first award was given to Brooklyn's Don Newcombe.  Originally, it was a single award covering the whole of baseball.  The honor was divided into two Cy Young Awards in 1967, one for each league.  In 1957, Warren Spahn became the first left-handed pitcher to win the award.  In 1963, Sandy Koufax became the first pitcher to win the award in a unanimous vote; two years later he became the first multiple winner.  In 1974, Mike Marshall won the award, becoming the first relief pitcher to win the award.  Roger Clemens currently holds the record for the most awards won, with seven won the most.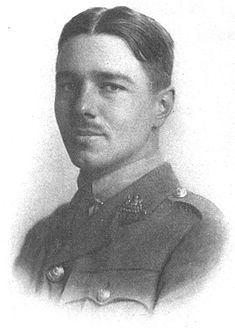 On this day in 1918, English poet and soldier Wilfred Owen was killed in World War I action, at the age of 25, during the crossing of the Sambre–Oise Canal, exactly one week (almost to the hour) before the signing of the Armistice.  Born Wilfred Edward Salter Owen on 18 March 1893 at Plas Wilmot, a house in Weston Lane, near Oswestry in Shropshire.  One of the leading poets of the First World War, his shocking, realistic war poetry on the horrors of trenches and gas warfare was heavily influenced by his friend and mentor Siegfried Sassoon, and stood in stark contrast both to the public perception of war at the time and to the confidently patriotic verse written by earlier war poets such as Rupert Brooke.  Among his best-known works – most of which were published posthumously – are "Dulce et Decorum est", "Insensibility", "Anthem for Doomed Youth", "Futility" and "Strange Meeting".  The Final Footprint – His mother received the telegram informing her of his death on Armistice Day, as the church bells were ringing out in celebration.  He is interred at the Communal Cemetery in Ors, France.
Have you planned yours yet?
Follow TFF on twitter @RIPFF