Sharon Memorial Park Mausoleum and Crematory – Sharon was established on 9 December 1939 by Dr. William Level Halberstadt.  Dr. Halberstadt was born 7 April 1886 in Ripley County, Indiana.  He died on 25 January 1965 and was entombed in a private room in the mausoleum.
Sharon was originally designed to embody the new idea of no mounds and no tombstones, but of bronze markers in a setting landscaped and kept in park-like condition.  The cemetery consists of 134 acres of which approximately 83 have been developed.  The current layout consists of 23 gardens devoted to ground burials, three lawn crypt gardens, 13 private estates, three hedge estates, a 17,000 sq. ft. mausoleum with six private rooms and a cremation garden.  Sharon features a Catholic garden, the Garden of Honor dedicated to those who have served our country through military service, eight Carrara white marble features from Carrara, Italy, and three water features.  The Garden of Remembrance Cremation Garden was added in 1998 and offers many options for cremation memorialization.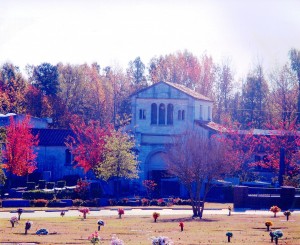 Mausoleum – Of course, Sharon is well known for the large impressive chapel mausoleum.  The building was designed by architect Cecil E. Bryan and built around 1950.  The churches of Tuscany, Italy, served as inspiration for the architectural style combining the charm of the old Romanesque and ecclesiastical tradition.  the exterior walls of the original building are Doric stone from Italy.  From the world's most famous quarries have come the gleaming marbles for the interior walls; Levantos, Bottticinos, Travertines and others from Italy, France, Portugal, Belgium and the Czech Republic.  In addition, the mausoleum features striking stained glass windows depicting the Ascension of Christ and Christ in Gethsemane.  The mausoleum has six private rooms, single and tandem crypts and marble and glass front niches for cremation urns.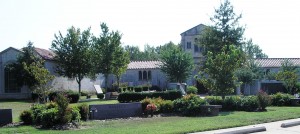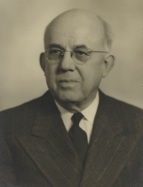 Cecil E. Bryan – Cecil E. Bryan was born the 26 March 1878 in Irving, Illinois.  His father, Alonzo Negalian "Gale" Bryan was a builder of houses in Pope County, Arkansas and railroad stations for the Continental Railroad.  Cecil E. Bryan married Ethyl Pearl Goembel, daughter of the mayor of Geneseo, Illinois.
Upon completion of his education, Cecil went to work for Frank Lloyd Wright for one year, then spent another year with Ralph Modjeski, who was a pioneer in the use of reinforced concrete.  Mr. Bryan began building mausoleums, using reinforced concrete and other materials, as early as 1912 with the building of Greenwood Mausoleum in Cedar Falls, Iowa.  One of his last projects was the Westview Mausoleum in Atlanta, Georgia, which was built in 1945.
Cecil E. Bryan died 24 March 1951 and is interred at Mountain View Mausoleum, Altadena, California.
Some eighty mausoleums were built by Mr. Bryan according to the Los Angeles Times, March 27, 1951.  For more information on Mr. Bryan and his mausoleums visit:  http://web.mac.com/cherylkochbryan/Cecil_E._Bryan/Welcome.html
Outdoor Museum of Sculptured Art – All of the figures at Sharon were carved from white Carrara marble by acknowledged artists in the Lavagnini Studios in Carrara, Italy.  White Carrara marble has for centuries been the choice of sculptors.  Some are copies of famous originals, some suggested by world renowned paintings.  All are religious in character, depicting well loved Bible stories.
David – The original of this famous sculpture by Gian Lorenzo Bernini is in the Galleria Borghese in Rome.  Bernini (Naples, 7 December 1598 – Rome, 28 November 1680) worked principally in Rome under six Popes and was the leading sculptor of his age and ranks with Michelangelo in his influence.  In this statue of David he has pictured the young David about to slay the giant Goliath with a stone from his slingshot.  The statue at Sharon is located in the smallest garden in the cemetery, 19 or David, located just inside the entrance from Sharon-Amity.

Well of the Apostles – A well head with the figures of the Twelve Apostles carved in deep relief.  Reading clockwise from Peter (identified by the key in his hand) we have Judas, Philip, James the Less, Thaddeus, Bartholomew, John, Andrew, Matthew, James the Greater, Thomas, Simon the Zealot.  This statue can be found at Sharon in Section 21, Well of the Apostles.

The Last Supper – Leonardo da Vinci (Vinci, Itlay, 15 April 1452 – Amboise, France, 2 May 1519) painted this greatest of religious pictures, when Jesus announces that one of his Twelve Apostles would betray him, on the plastered wall of the dining hall at the monastery of Santa Maria delle Grazie in Milan, Italy, finishing it in 1496.

Dr. Halberstadt visited Milan in 1948 and conceived the idea of having the copy made in white Carrara marble.  He placed the order for the work to be executed in the city of Carrara on 2 December 1948.  The delivery was made more than two years later and was carved from a carefully selected ten-ton block of this famous marble.  the white sculptured panel is over fourteen feet long, nearly six feet high and a foot thick.  The pilasters or wings, together with the base and mouldings are Craig Pink Tennessee marble.  This statue can be found at Sharon in Section 11, The Last Supper.

The Finding of Moses – Giovanni Strazza (1818 – 1875), famous Italian sculptor created the original of this beautiful portrayal of the Bible story more than a century ago.  It is installed in the Pincio Gardens in Rome overlooking the Vatican and Saint Peter's Basilica.  This statue can be found at Sharon in Section 34, Finding of Moses.

Christ in Gethsemane –  German painter Johann Michael Ferdinand Heinrich Hofmann's (19 March 1824 – 23 June 1911) famous painting of Jesus praying in Gethsemane was followed by the sculptor who carved this massive two-ton figure.  The original painting can be found at The Riverside Church in New York City.  The statue can be found in Section 9, Gethsemane.

Saint Paul – The great Danish sculptor Karl Albert Bertel Thorwaldsen (Copenhagen, 1770 – Copenhagen 1844) is widely known for his Christus which can be seen in The Louvre in Paris.  Widely acclaimed too is his group of the eleven apostles in a Copenhagen church.  Dr. Halberstadt had an exact copy of Thorwaldsen's Saint Paul made for Sharon.  This statue can be found in Section 20, Saint Paul.